[toc]
Water, it's one of the most basic and essential things in our daily lives. And getting proper access to clean water can be a bit of a hassle sometimes. Whether you' are buying bottled water or spending your time and effort making the water in your home drinkable, it can be a bit troublesome.
For many people out there, the proper solution is to invest in a decent water filter for their home. A standard faucet water filter helps you filter and decontaminate the water in your home right as it comes from the faucet without having to any extra work. It is both economical and extremely easy.
But finding the water filter system for your faucet can be a bit of a challenge. There are many different manufacturers out there that offer water faucet filters with varying features and functionality. Luckily, we have compiled a helpful guide with the top faucet water filters to aid you in your search.
Best Faucet Water Filters
Engdenton Stainless Steel Faucet Water Filter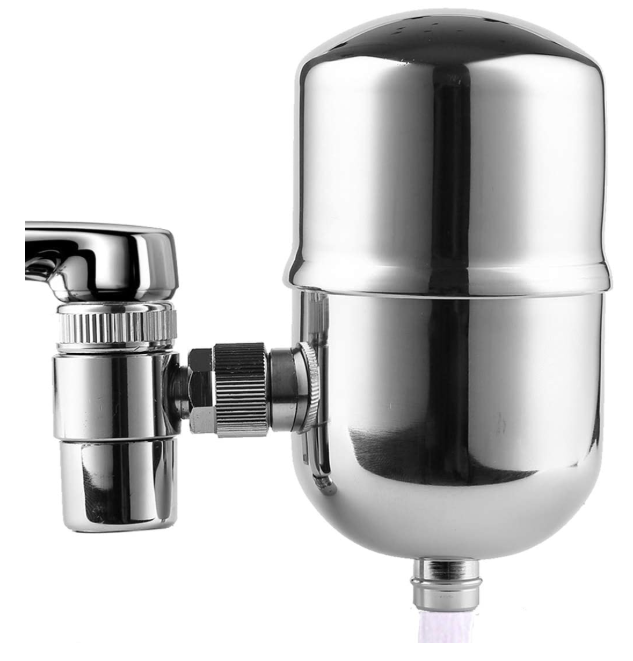 If you're looking for a safe and durable water filter that'll keep you hydrated, then the Engdenton Stainless Steel Water Filter is your best bet. It's easy to use, fast, and oh so durable.
Right off the bat, you'll be able to tell that this unit is designed to last. It's built using 304 stainless steel. This means that you'll be getting your water without any nasty rust down the line. It's completely leak-proof and won't suffer any major cracks or breakages.
The filter uses ACF (that's Activated Charcoal Filtration) as it's a method of filtration. This has a couple of key benefits like killing off waterborne bacteria, eliminating bad smells, and giving you a much better taste.
Pros
Fast 5-minute installation
Durable and rust-free
0.5GPM flow rate
Cons
Lacks some testing information
PUR FM2500V Classic Faucet Mount Filter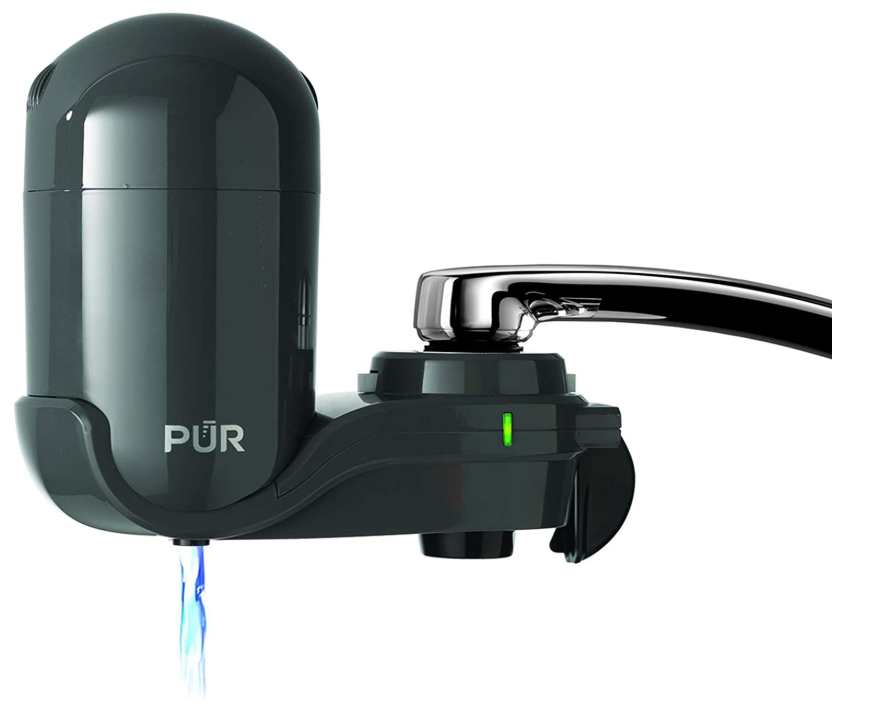 Sometimes you want clean water to just flow out of your tap easily, and the PUR FM2500V is a good way to get there. It's a water filter that has no big fuss; you just attach it to your faucet without any tools. And hey, presto! You now have drinkable water.
This NSF certified filter manages to prevent 70 different contaminants from entering your water. It will even reduce 99% of lead, which makes it that much safer. You'll get roughly 2-3 months out of the filter before needing to replace it.
The unit has a dedicated LED indicator that will let you know exactly when the water is safe and ready to drink. This, coupled with the easy installation, makes this is a great no-nonsense unit.
Pros
Simple plug and use installation
Extensive filtration system
NSF certified
Cons
Getting the right adapter size can be an issue
DuPont WFFM100XCH Premier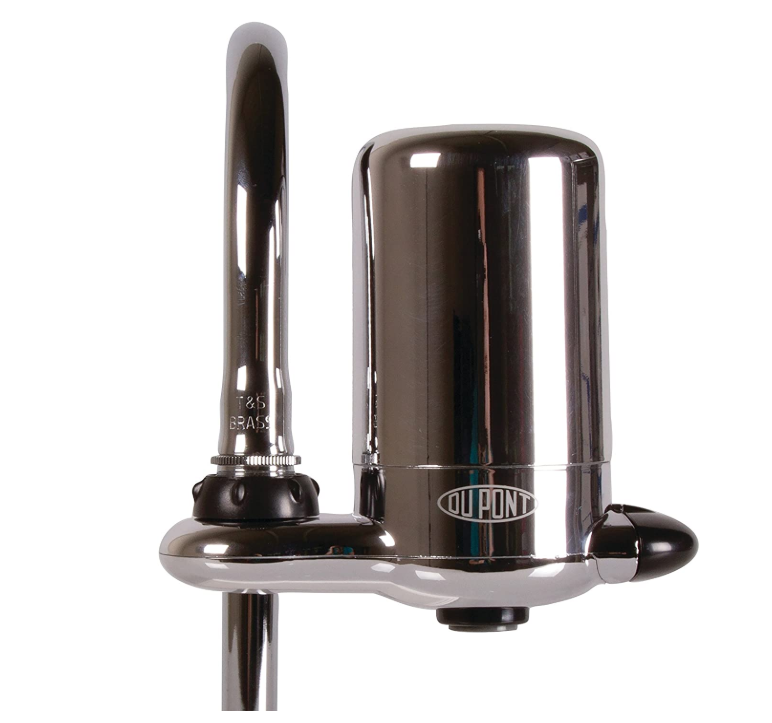 It should come as no surprise to find a Dupont product on this list. They make exceptional household products, and the WFFM100XCH water filter is no exception. It is a high-grade premium faucet water filter that does just about everything.
The filter has a capacity of 100 gallons of clean drinking water before needing to be replaced. In terms of filtering, it does just about everything. On top of microbes, it manages to filter sediment, chlorine, asbestos. mercury, lead, and even cysts.
This will make it so even the most contaminated water in your house or apartment will clear up without any bad smells, taste, or any murkiness. The handy switch on the side lets you turn it off when you want to do your dishes and switch back when you want to drink.
Pros
Filters out microbes, chemicals, bio waste, and sediments
NSF certified
Not as expensive
Cons
Can leak with some faucets
Culligan FM-25 Faucet house water filtration system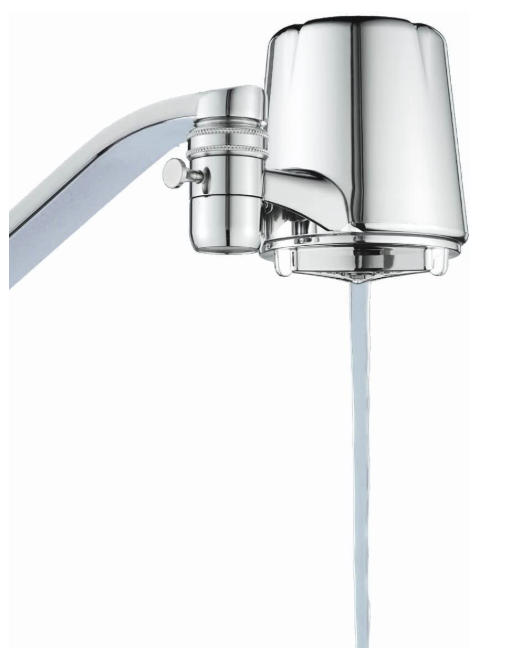 The Culligan FM 25 water filter prides itself on being a minimum hassle water filter that gets the job done. This is why it consistently gets praise from a lot of reviewers as well as customers alike.
The tool-free installation for this unit seems to be its strongest quality. Whether it's about attaching the unit to your faucet or putting in new cartridges, it's extremely easy. In fact, Culligan arguably has some of the best mounts, among other faucet water filters.
The filter manages to remove chemicals, class 1 particles, lead, and microbes thanks to its carbon block method. It even has a 200-gallon capacity which almost doubles that of some other units
Pros
Excellent faucet mount
Big 200 gallon capacity
Great auto-off feature
Cons
The filter cap has a tendency to get stuck
Waterdrop WD-FC-02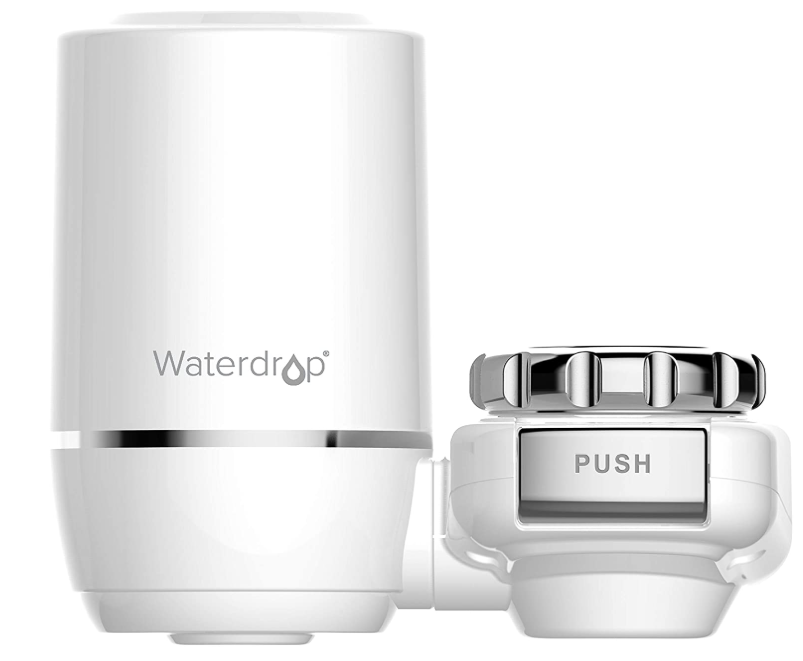 If you're looking for something a bit more advanced than just your average run of the mill water filter, then look no further. The Waterdrop WD FC 02 is an ultrafiltration filter that promises to get most contaminants out of your water.
This unit has a UV filter with a pore size accuracy of 0.01 to 0.1 micron. That's efficient enough to stop the smallest of viral particles from entering your water. The ACF technology gets rid of chlorine and any bad odors in your water.
The unit has been redesigned from a previous model, which makes it much easier to use. What's more, it has a 320-gallon capacity that can last you months.
Pros
Large 320-gallon capacity
Sophisticated Ultrafiltration
Longer Filter life
Cons
Not compatible with some tap types
Kabter Faucet Mount Water Filter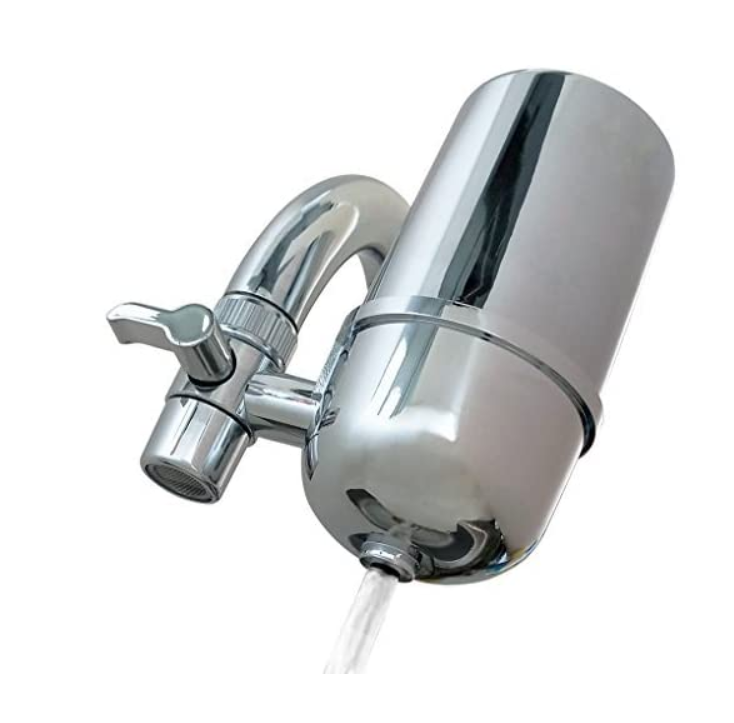 The Kabter water filter is a quick way to clear any suspect water flowing from your tap without breaking the bank. It comes with all the necessary accessories and fits most faucets.
The filter works on an ACF based system that also uses Calcium Sulphate balls. Not only are you making the water safe to drink but also less displeasing to have.
Kabter has made it, so the filter doesn't just pop off your faucet if it isn't as secured or threaded. It also has a capacity of 200 gallons, which is more than serviceable.
Pros
Secure mounting system
200-gallon capacity
Two-step filtration
Cons
The filter is made out of plastic
Instapure F2 ESSENTIALS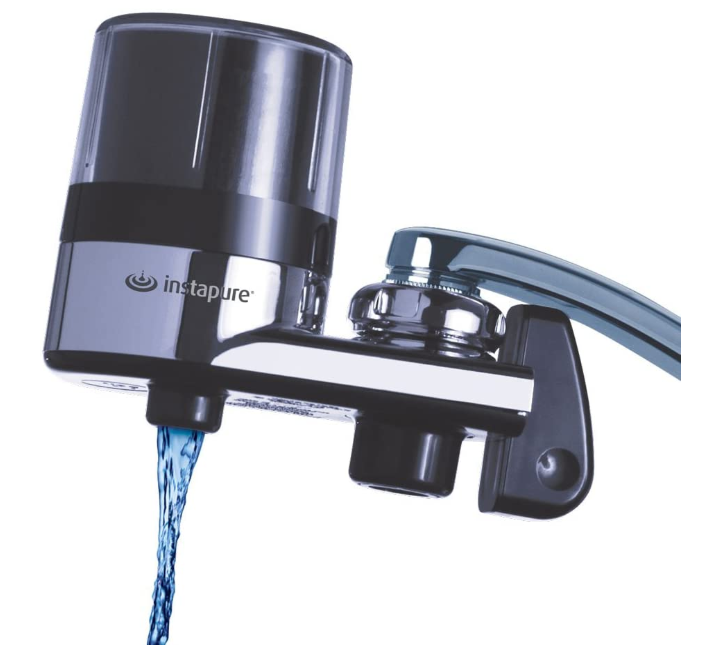 This amazing faucet filter is both ANSI and NSF certified to make your water safe to drink. It can take Class 2 Chlorine out of your water with little hassle. That's on top of getting rid of microbial cysts, VOCs, and much more.
The unit has chrome finished doesn't make it stand out too much in front of your faucets. What's more, it's highly portable so you can move it around the house or take it on the go.
The InstaPure F2 Essentials is durable enough to last for a long time. You only need to change it after 3 months to get fresh drinking water again.
Pros
Highly durable
Extremely portable
ANSI and NSF certified
Cons
Not suitable for hot water use
Faucet Water Filter Buyer's Guide
Since there are so many faucet water filters out there for you to buy, it can be difficult to settle on just one. But there are certain things you can look out for to narrow down your choices. Here's what you should be looking out for.
Filter Life
Getting clean water consistently means making sure that your filter is in proper shape. This often means having to change the filters every so often. But not all filters all equal. Some last longer than others.
This is why it's worthwhile to look out for your filter's life. It will not only save you the hassle of having to change filters but also give you much more water out of your filter.
Price
Obviously, if you're buying a filter, you want to have the best possible value that you can get for your money. There's no point in buying a filter if it ends up costing you more than just buying prefiltered bottled water.
Many faucet water filters sit at different price points. Only some of these are worth the money more than others. That's why you should always compare prices between similar units.
Appearance
Although not as important as the other aspects, appearance can make a small difference between filters. Many filters come in a plastic housing, while others have stainless-steel housing. Some will fit in better with your kitchen than others. Especially if they have a chromed finish.
Filter Capability
Not all filters will be successfully able to filter out everything. Most filters will take out pollutants, but not all of them can filter out things like chemicals, cysts, and the ability to make your water taste or smell better.
Conclusion
By now, you should have a pretty good idea about all the different faucet water filters you can go out and buy. Not everyone will settle on the same filter as different people have different needs for their water filter.
But if you're looking to find one water filter that performs the best overall, then it's the Waterdrop WD FC 02. It's easy to use, feature-rich, and a good way to filter water for our money.
You can go ahead and check out the Waterdrop WD FC 02 today to get clean water for you and your family.