Posted: December 25 2021 There are a lot of new fancy high pressure shower heads like the shower head with led lights but if you are older and are used to the hand held shower heads then this article is the correct one for you. For some people hand held shower heads are more practical since they can wash their whole body easier without having to move too much and that is completely reasonable, so we are going to help you chose the best handheld shower head.
The 5 Best Handheld Shower Heads
[toc]
We analyzed a lot of shower heads and came to a conclusion. In this list, we are going to review the best handheld shower heads based on some factors such as the price, durability, functionality and more, to help you chose the correct one for your needs and budget.





5. AquaDance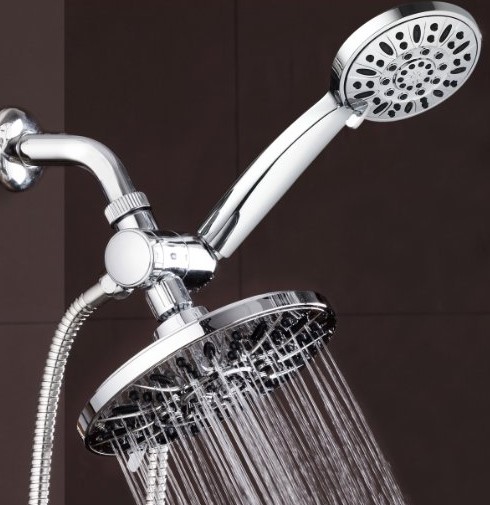 Let's start this best handheld shower head list with an AquaDance product. This is a multi-setting shower head which can be used both as a handheld or fixed one. The best thing about it is that it if pretty affordable compared to the competition, and it's doing a great job.
It comes in shiny chrome color which is pretty standard and the size of it is 7-inches, so you can say that it's made to fit every kind of bathroom.
It has 6 spray settings, and that's the best thing about the AquaDance shower head. You can switch between the Power Rain, Power Mist, Rain/Massage, Rain/Mist, Pulsating Massage or the Water Saving Mode which is very useful if you live in an area that has a low water supply. You can select your favorite mode depending on your mood, or you can even choose two settings at the same time. So for example, if you are tired just set it to the Rain/Massage mode and you're good to go.
This is a good choice if you live in a house where more than 4 people live. If you want a handheld shower head but your wife wants a fixed one you won't go wrong with this one because it will satisfy the needs of all your family members. Also, both of the shower heads can be adjusted to exactly how you want them to be.
The hose might not be the best quality, but if it ever breaks or starts to leak you can replace it by buying another one for a cheap price.
Overall it's one of the best handheld shower heads in this price range and if you have a family of more than 4 people then this is a great and affordable option for you.
4. HotelSpa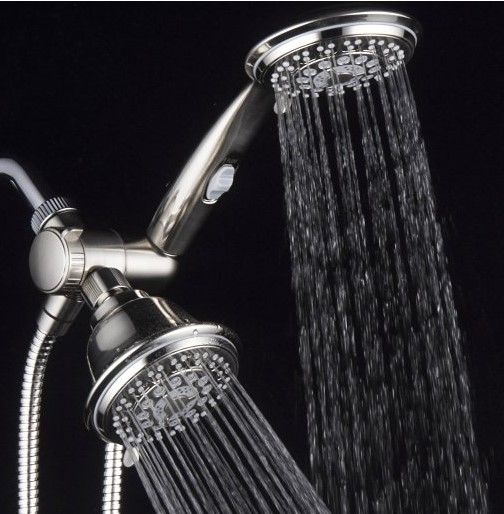 We have another great shower head which deserves its place on this list because of its high functionality and affordable price.
The HotelSpa Shower head is a very beautiful and luxurious looking product which is designed for all ages and genders. It has a lot of spray settings and you can combine all of them, so this means that you can experiment with it until you find what you like the best. Since it has that many settings you won't ever get out of the shower saying 'I had a bad shower' because HotelSpa always makes sure you have an amazing experience while taking a shower.
The handheld shower head has 9 settings and the fixed one has 8 settings, they can both run at the same time and provide different water spraying patterns. The settings that this shower head offers are: waterfall shower head, Massage, Economy Rain, Mist and 4 combination settings. The Economy Rain setting is very good because it will make you feel good and relaxed while saving a lot of water that would have gone to waste.
The Pause switch is a very useful feature which can save a lot of water. You can push it while you are shampooing or soaping yourself and it will stop the water flow completely. To get it back running just use the switch again and you're good to go.
Every shower head has its good and bad thing, so the HotelSpa's bad side is that it feels very light and low quality. Don't get me wrong, it's very durable and will last you for years but it just doesn't feel like it is. Also if your bathroom is white this might not suit your design because the brushed nickel looks different.
Overall it's a good shower head which is worth getting. It offers a lot of features for a very cheap price so if you need a new one, go for the HotelSpa!
3. Vida Alegria H5+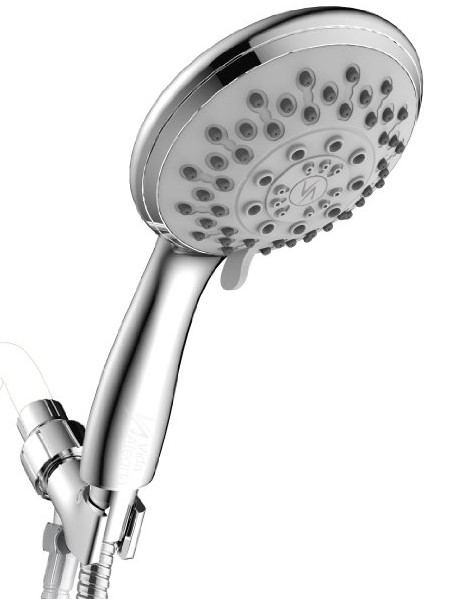 Before I tell you why this is one of the best handheld shower head, I want to mention that Vida Alegria has amazing customer support and they really do care about their costumers, so that's a big plus. Now let's see why the Vida Alegria H5+ is that good.
First of all, it's very easy to install. Some people struggle with installing shower heads but i guarantee you that you can install this shower head easily even if you've never installed one before.
It has 5 spraying modes which can be suitable for any kind of mood. The modes are Rain, Rinse, Massage Drizzle and Two Mix modes. If you are someone that loves taking high-pressure showers, then you can remove the removable flow restrictor which will let the shower head spray with its full potential.
This basically is a simple but powerful multi-purpose shower head which can be used for taking showers, bathing your children or pets and for cleaning your bathroom using the high-pressure mode.
The thing that I mostly liked about this product is that it offers a solution to people that do not have high water pressure at their house. Since shower heads MUST be 2.5g/min required by law, every shower head manufacturer produces them with a restrictor. Some people just don't have enough water pressure at their house and adding the limited to that makes it even worse. Vida Alegrias removable limiter is very useful in such cases.
Every function of this handheld shower head is very good and built with care, so I have no other words to say about it except that it's amazing and it definitely is worth your money.
2. Moen hand held shower head 23015SRN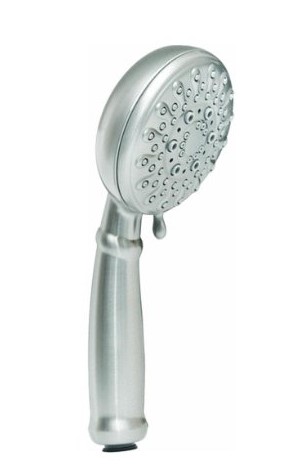 Moving on on our best handheld shower head list we have a Moen shower head. Moen is a pretty reputable company that specializes in kitchen and bathroom equipment. They have a pretty interesting company history and they have been in this business for years, so you can say that their products are very good.
The Moen 23015SRN is a very beautiful and durable shower head which is built to last you for years. It's made out of stainless steel, plastic & metal. Every part of it is built carefully to deliver this amazing shower head with almost no flaws.
It has 3-5 spraying settings, and some of them can be combined between them and I think that this is more than enough for a simple shower head. The combinations have a pretty strong flow, even though most shower heads have lower pressure when using two settings at once.
It may not have a lot of functions because this is a simple and basic shower head, but it does the functions it has pretty well. I would recommend this to people that aren't looking for something fancy but they are looking for a shower head that is durable and will last them a long time.
1.Moen shower head 26100SRN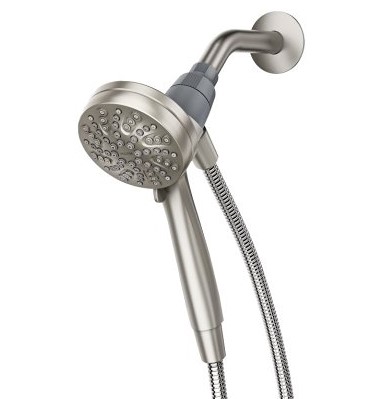 To finish up our list of the best handheld shower heads we are going to review another Moen product, just because they're generally good.
The Moen shower head is a shower head that has 6 high-pressure settings you can choose from, which means you won't get bored that easily from using it. The pressure is great on this shower head, especially on the rain setting.
It looks very luxurious and the color makes it fit any kind of bathroom. I really liked the high quality brushed nickel finish on this product and I think it deserves some recognition for it. Because of that, you don't have to clean it all the time, because it is very resistant to fingerprints and water spots. That's some good news for whoever cleans your house because cleaning shower heads too often can damage them.
What this shower headMoen shower head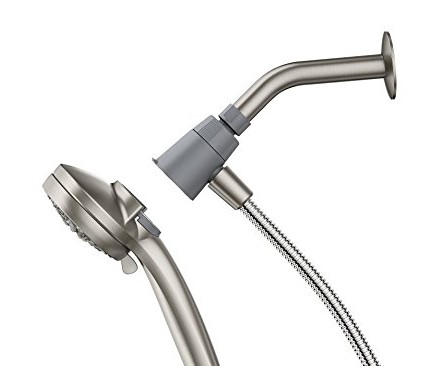 is ,It's extremely durable.. actually, every Moen product is. It comes with the magnetic dock and the metallic hose which is very durable and you won't see any leaks on it anytime soon. Please note that it does not come with an extension arm, just the metallic hose & the magnetic dock.
The installation process of the hand held shower head is very easy and can be done by anyone. The only negative thing about the Moen 26100srn handheld shower head is that some of its parts are plastic. While it's not a big problem in my opinion, some people want shower heads that are made purely out of steel.
Overall this is a great value and you get more than what you pay for. The magnetic dock is amazing and I would pay the price for it alone. If you're looking for a good handheld shower head that will last you for a long time, go with the Moen 26100SRN
What's So Good About Handheld Shower Heads?
Some people say that handheld shower heads are out of style and that no one should use them, but there are some things that handheld showers have that the other types don't.
First of all, handheld showers are much more durable and can last you for a longer time. They're mostly metallic and also have a metallic hose which means higher quality. Shower head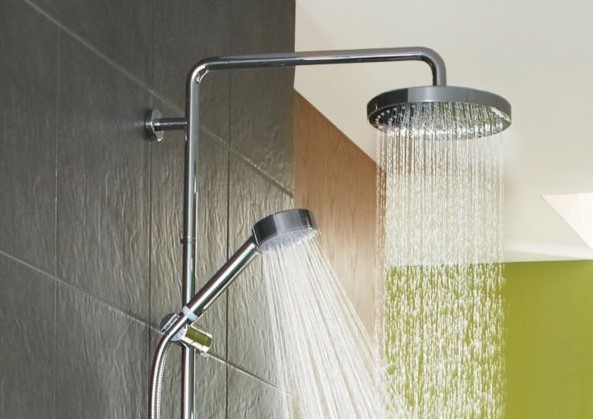 manufacturers try to include different gadgets inside the shower heads such as speakers shower head with lights. While doing that they also try to keep the price low, so to do that they use lower quality material and this leads to products being less durable.
Handheld shower heads can usually be used for multiple things. For example, you can use it to clean your bathroom. There is no way on earth that you can clean your bathroom with a fixed shower head, so that's a big plus. If you have pet's, handheld shower heads are also very useful for washing them. If you have any pets you probably know that it's pretty hard to wash them because they like to move around a lot, so having a handheld shower head with which you can follow them around the bathtub can be very helpful.
A Handheld shower head is also adjustable, so you can wash your body parts better with one. If you are a person that likes to shower quickly then handheld shower heads can do that you for. It takes longer to wash your body completely with the fixed shower heads.
Choosing The Best Handheld Shower Head
If you want to make sure to buy the best handheld shower head, then you have to make sure you check everything about them very carefully, especially the things i am going to mention below.
Always make sure you purchase a handheld shower head that has a metallic hose, or a hose that is very high quality. Handheld showers are moved around a lot and that causes the shower hose to wear out very fast. If you don't want that to happen to you, always make sure you get a good one, preferably metallic. Also, make sure the hose is longer. Some manufacturers try to rip you off by sending you very short shower hoses. Make sure the hose is in the length you need.
Since there are a lot of choices for handheld shower heads, you should definitely make sure you purchase one that matches your bathroom's color and design. Most of them are chrome, so if you have a white bathroom the chrome should fit in perfectly.
If you don't want to get bored from your shower head anytime soon, make sure you purchase one that is a multi-setting shower head so you can take showers based on your mood. There's nothing better than the rain setting on the shower head after a long day at work.
Always make sure you purchase from a reputable company that has been in the business for a while. New companies usually have very bad support and if the product fails in some way, they won't help you. This is not the case with all the new companies, but you should still consider buying from a reputable manufacturer.
Conclusion
I hope i helped you chose the best handheld shower head, and if you're still in doubt, follow the steps above to find one that is suitable for you. The products that we listed in this list have been analyzed and reviewed carefully, so if you don't know for which one to go for, you probably won't go wrong with trying out one of the products we listed. If you have any questions or want some further information do not hesitate to contact me, I will do my best to reply to you and offer my help!