Most people have problems with low water pressure on their house which makes their showers awful. Today we are going to see which is the best high pressure shower head for low water pressure because they are a very good and cheap solution to that problem.
In this article, we are going to list the 5 best shower heads for low pressure based on their price, functionality & other factors like shower experience. Together, we are going to try to find the perfect one for your bathroom so that you won't have any problems with your water pressure anymore! Please keep in mind that the list will not be in any particular order also if you have water problems check out the Shower filter reviews
The 5 Best Shower Heads for Low Pressure
Size: 4.19"L x 3.63"W x 4.88"H
Size: 4.7 x 5.9 x 5.9 inches
Size: 3.5 x 3.5 x 3.5 inches
Size: 5.2 x 2.3 x 10.7 inches

5. Speakman S-2251-PN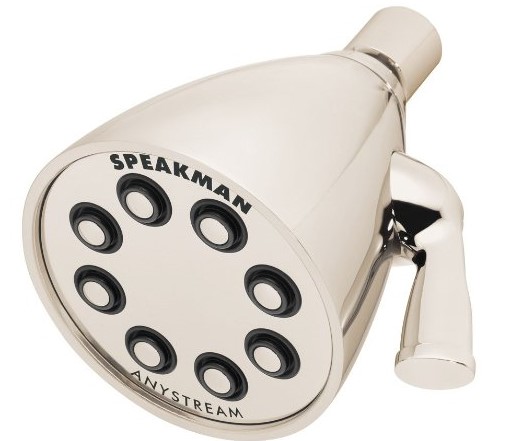 To start off this list, we are going to start it with a Speakman product. Speakman is a worldwide famous brand that produces very high-quality shower heads and they've been in the market for a while now, so you can say that they're pretty reputable.
The Speakman S-2251-PN is a great shower head because it has a lot of features in it and is very durable. It has the AnyStream 360 technology which is patented by them. The AnyStream technology makes it possible for the shower head to make a 360-degree rotation. This is a pretty useful feature which can not be found in any of its competitors.
This shower head is a great option for people that have low water pressure and poor gallons per minute gpm at their house since it is a very shower head.
If you take showers very often or if you have a family with a lot of members in it, you probably are tired of shower heads that start leaking after a few months and give a bad shower experience, well i can say that you probably won't have this problem with Speakman, because it's made out of very durable solid brass which provides quality and longevity.
Speakman S2251PN has 3 spraying modes which are produced by the 8 adjustable jets which produce 64 individual sprays. The Speakman has the Intense, the rain & the flood setting. This might seem low to some people because there are shower heads that provide 8+ settings, but trust me, you don't need more than 3 to have an amazing shower.
It's very easy to clean and easy to install too. The best part is that they really do have great support so if you have any problems with it, you can contact them and they will help you solve your problems.
Overall it's a great shower head and I would say that it's worth the money, but if you have an extremely low flow water pressure, I would suggest getting the Speakman S-2252 which is the 6 jet version, because it has more power than the 8 jet one and multiple spray pattern.
4. Kohler K-10284-CP
High Pressure Shower Heads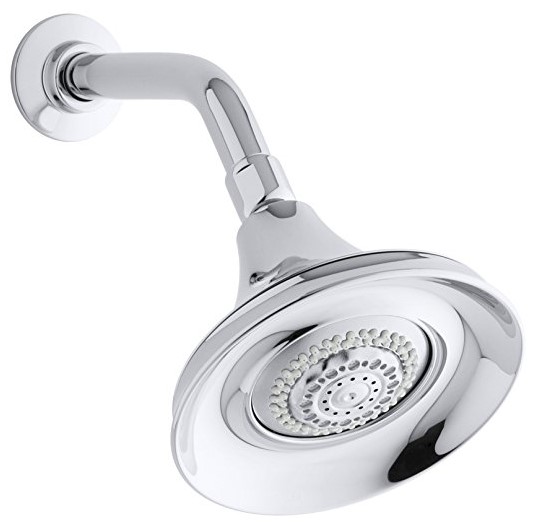 Moving on, at number 4 we have the Kohler K-10284-CP. Like Speakman, Kohler is a very reputable company too and they have produced a lot of different shower head types so they can serve every bathroom.
The Kohler K-10284-CP is a high pressure shower head which has a very advanced spray engine that offers 3 settings: Wide Coverage, Soft aerated & Massage Spray. Most shower heads offer common settings like the rain and the waterfall setting, but Kohler did a great job offering something different with these styles.
The Wide Coverage option is a great option because if you are a huge person, this setting will make it possible for the water to reach all your body parts without having to move around too much and give a great shower experience. The Massage spray spray pattern is good for people that work a hard job, and taking a shower with this setting before you sleep will fix all your sleeping problems if you have any.
Unlike other high pressure shower heads, this one is a very big shower head, which is a very good thing because as I mentioned above it can reach all your body parts leading to a better and easier shower with great spray pattern.
Another great thing about the Kohler K10284CP is that you can adjust the height of the shower head very easily. If you have family members that are different heights, they can adjust it when they get in the bath tub very easily so it fits their needs.
Overall this is a great and affordable shower head which is made by a reputable company. The only downside I can see is the design. Personally, I think that it looks too old, and won't be suitable for modern bathrooms. If you want it for personal use and do not care about the design, then this shouldn't be a problem for you.
3. Speakman s-2007-PB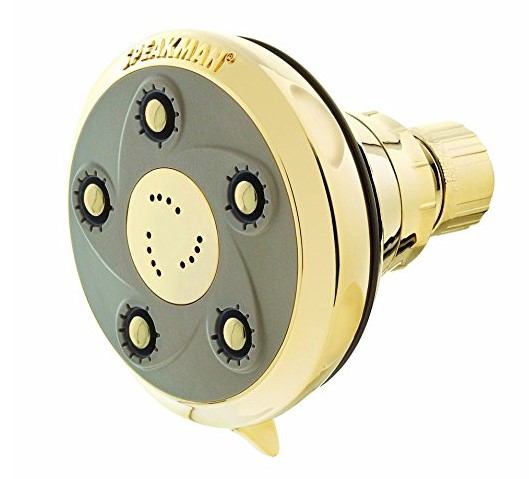 At number 3 we have another Speakman high pressure shower head which in my opinion looks much better and has more features than the Speakman S-2251-PN. It is a polished brass color shower head which looks similar to the gold color. This shower head will make your bathroom look very luxurious.
It does also have the AnyStream 360-degree technology like the Speakman we mentioned above earlier.
I said that this shower head is better than the first Speakman we listed above because this truly is a high pressure shower head. It is one because unlike the Speakman Ss-2251-PN which has 8 adjustable jets, this one has 5 adjustable jets and 40 individual jets which means that it can produce more water pressure. You need more water pressure to have all the 8 adjustable jets work properly, so having 5 can produce more.
This is one of the low pressure shower heads you can purchase if you have low water pressure at your house. It will have an amazing performance even if you have low-pressure water.
Everything is amazing about the Speakman S-2007-PB, especially the design and the color. The only thing that I personally did not like about it is that it's made out of plastic. The plastic is very high quality and that causes the shower head to be very light weight but still, the metal will always be better in terms of quality and durability.
2. Aqua Elegante handheld shower head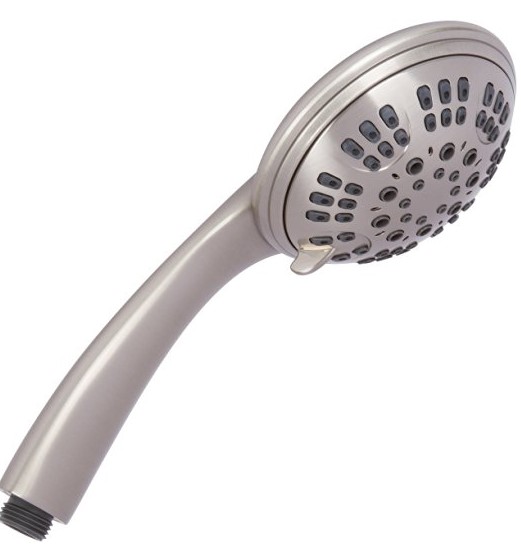 Okay so at number 2 we have a different type of shower head which is a handheld shower head.
This is the only high pressure handheld shower head that we are listing in this article because more people prefer fixed shower head to a handheld shower, but I had to mention this one because it is almost the PERFECT choice in brushed nickel.
First of all, I want to say that it has 6 different shower settings. Let's list them quickly:
Saturating Power Blast spray settings
Pulsating Massage spray settings
Gentle Rain spray settings rain shower
Water Saving perfect for low flow
2x Mixed Modes for water saving
Taking a shower with this shower head will be an amazing experience because you can set the settings to whatever way you want it to be. If you're feeling tired after a long day at work, just choose the Gentle Rain or Pulsating Massage mode and you will have the best time of your life.
Now we know that most people that have low-water pressure at their house struggle to find a good high pressure shower head, so I have some good news for you. Even though the pressure is pretty high on this shower head, if you are not satisfied with it, you can just remove the water flow restrictor which can be removed very easily. This will bring more water to your shower head which means better pressure!
Everything is very satisfying about this shower head, and so far I cannot find anything wrong with this. It has a very beautiful color, it is extremely durable and it comes at a very cheap price. So if you want a shower head which is very affordable and that will last you for a long time go with the Aqua Elegante, you won't regret it.
Remember, it does not come with shower bracket or the shower hose, so you have to purchase these separately. If you already have these at your house left over from your old shower head, you can use them for it. Make sure they fit before you purchase.
1. Culligan WSH-C125 fixed shower head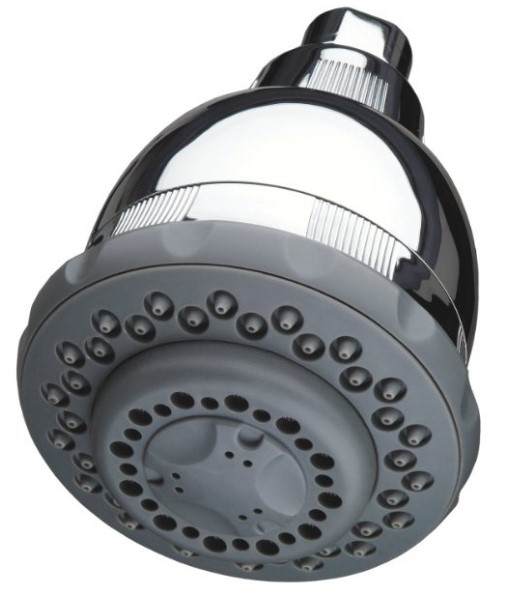 At the end of our shower heads review we have the Culligan WSH-C125 high pressure shower heads. You have probably heard about this shower head before because it is one of the most sold shower heads in the market. I would say it deserves all of its sales because it really is a high quality product which does a lot of things.
What's so special about this product is that it has a system inside it that removes 99% of chlorine from water. That's a pretty good thing because chlorine can damage your skin, your hair & other things. While it isn't too serious, you should take precautions if you do not want to lose your hair soon. If you are someone that can't stand bad water smells, then this also would be a good choice for you because it get's rid of them with its filter!
It has 5 spraying settings which can be selected based on your mood, so you have the massage and calm settings and on the other hand you got the high-pressure settings.
Like on the Aqua Elegante, you can also remove the water restrictor from it, so it can work to its full potential to bring you very high pressure. This is only recommended for houses that have low pressure. If you have average or high pressure I would suggest leaving the water restrictor as it is especially if water flow is gallons per minute is 2 5 gpm or more.
What else can I say, it's just perfect! It's extremely affordable for the features that it has to offer, and you definitely get more than what you pay for because most of the other shower heads in this price range are very bad compared to the Culligan WSH-C125.
There are a few things I want you to be careful about before you purchase a shower head high pressure shower head rain shower. You use the shower head almost every day, but you don't change it every day. So you should be careful when purchasing one because you don't want it to break after one month of usage. To prevent that, I have some suggestions you should follow to get the best possible one. Choosing the best high pressure shower head might be a hard task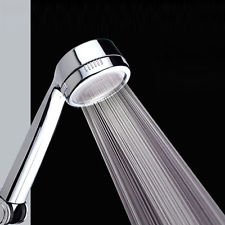 Make sure the shower head you purchase comes with a removable restrictor. Most houses that have low water supply suffer from low water pressure, and if you get a shower head that does not have a removable restrictor, your problem will be even bigger and your money will be gone to waste 2 5 gpm.
Getting a high pressure shower head with a removable restrictor can be a good thing because, if you are not sure about the water pressure, you can check the performance and flow rate with and without the restrictor. At the end choose the one that suits the flow rate2 5 gpm you best and keep it that way.
As i mentioned at the beginning of the article, you should be careful who you buy from. Always make sure to choose a company that is reputable and that has been in the business for a long time. Perfect examples would be Speakman, Kohler and others.
Companies that have been around for a longer time usually have better support and better overall product quality 2 5 gpm
Making sure that the shower head is made of high-quality material is very important because if the shower head really has high water pressure flow rate, then it should also be made out of material that can handle high water pressure flow rate. I would suggest always to buy metal ones, but there are also some plastic shower heads that are pretty durable.
This section is similar to the 'company' section where i said you should choose a company that has been in the market for a long time. Usually, this kind of companies provide better warranties that are longer and replace the product no matter what, so you should look for companies that provide good warranty.
Removing The Restrictor
I mentioned above that you should purchase a shower head with a removable restrictor. If you didn't, then follow the steps below to successfully remove the restrictor from the shower head.
What you will need:
Wrench
A Rag
Paper Clip
Teflon Tape
If you have already installed the shower head, remove it using a wrench on the nut.
If there is any shower screen, remove it.
Now straighten the paper clip and use it to pry the gasket located inside the shower head. After that remove it.
Now remove the water flow restrictor, which looks like a disk.
Put the gasket back in its place
If you removed a shower screen, put it back in
Remove the old Teflon tape and replace it with a new one
Put the shower head best back into its place.
Note that these are basic steps and you should look for detailed instructions on the shower heads box for more details.
Conclusion
Getting a high pressure shower head is the cheapest and easiest solution for people that have low water supply or low water pressure at their house. Installing shower head best doesn't take long and anyone can do it. You can follow the instructions that come with the shower heads (if any), or read one of the dozens of tutorials found online for free.