[toc]
Do you know gazillions of people fall prey to waterborne diseases annually? And the statistics exhibit that it is mainly because of their recklessness — they consume contaminated water. However, you can avoid being counted among these people by simply getting yourself an under-sink water filter.
You wouldn't have to purchase expensive water coolers or dispensers after installing this gadget, and it would provide you with the same level of purity. Also, it doesn't occupy extra space in your kitchen, which is a plus point. So, here we have enlisted the best filters that can provide you crystal clear drinking water.
Best Under sink Water Filters
1) iSpring 75GPD Under Sink Water Filter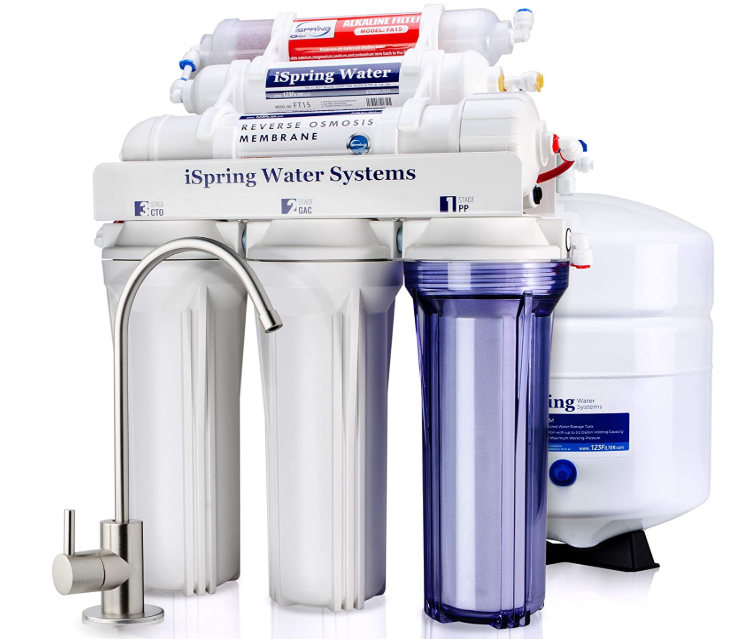 The company is known for its exceptional filters that provide the safest and cleanest drinking water possible. Within iSpring 75GPD undergoes a 6-stage reverse osmosis process that not only maintains the mineral balance in the water but also retains the natural levels of alkalinity.
It eliminates up to 99% of impurities, including arsenic, fluoride, chlorine, lead, calcium, asbestos, and more. The alkaline remineralization layered filtration outshines the results of any previous iSpring models. The process maintains a steady pH level, which means there will be no fluctuations in the water's acidity.
Overall, the device is compact enough to be fitted underneath any standard kitchen sink. The colored tubes and "push to connect" features make the installation a piece of cake. The covering of the tubes is engineered transparent so that you can monitor the whole process.
Pros
The filter system has multiple layers ensuring maximum filtration.
The gadget maintains a healthy balance of acidity and minerals.
The installation is hassle-free.
Cons
The body is constructed with some substandard material.
It has some allergy-triggering chemicals.
2) CuZn UC-200 High Capacity Under Counter Water Filter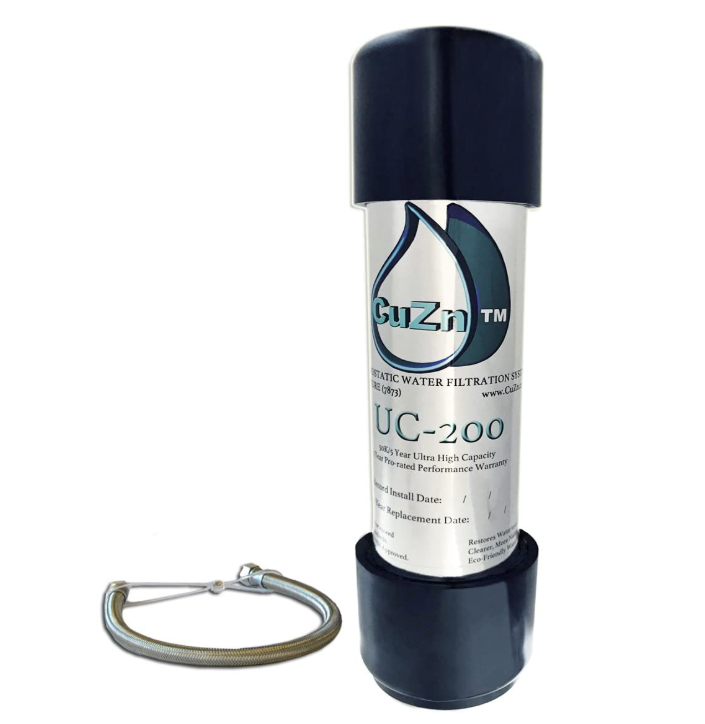 This gadget stands out in the market due to its incredible storage capacity and long-lasting performance. It can hold an enormous amount of water and can process almost 50,000 gallons of water. Moreover, it is pretty easy to install; you can set it up within ten to fifteen minutes without any special equipment.
UC-200 carries an efficient 3-stage filtration mechanism that can get rid of most contaminants in your water source. The first stage packs micro sediment membranes to remove small debris. While the second and third stages carry KDF-55 and coconut shell carbon, respectively, that filters the rest of the impurities.
Remember that this device does not act as a water softening system; therefore, it cannot treat excessive water hardness, including limescale mineral amassment. For that, you might want to get yourself a separate water softener.
Pros
It eliminates the bad odor from the water.
The device is extremely compact.
It is easy to install.
It has enormous storage capacity.
Cons
The gadget is prone to leakage.
The mount does not hold the filter firmly.
3) APEC Top Tier Alkaline Reverse Osmosis Water Filter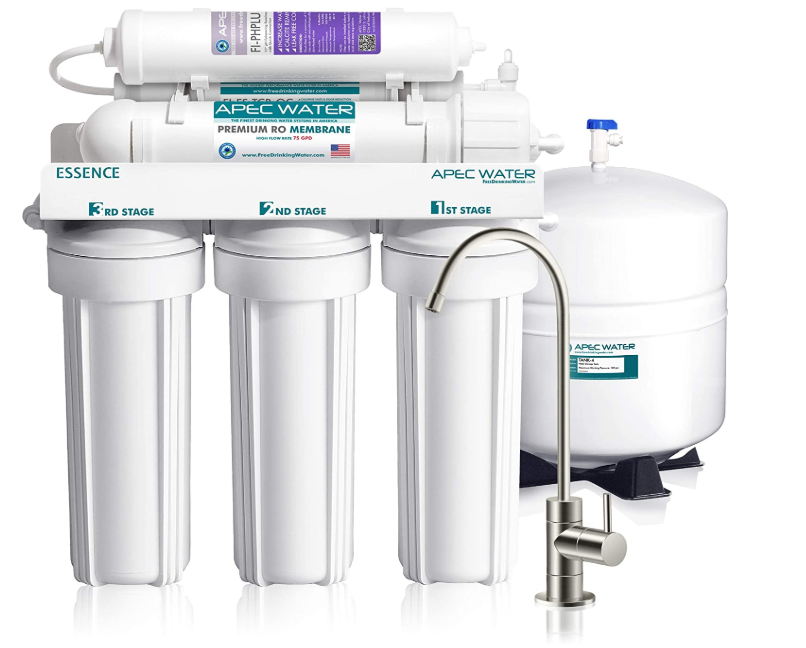 It would be accurate to state that it is engineered with elegance. The impressive design is sure to attract many eyes, unlike most of the boring-looking water filters. Moreover, the fact that it can last for more than two decades will surely make you stand up from your chair.
The filter carries a 6-stage filtration system that gets rid of 99% of bacteria, sediments, minerals, chemicals, etc. Also, the carbon block filter deals with the persistent chlorine odor resulting in pure and safe drinkable water.
The most unique feature of the APEC filter is its alkaline re-mineralizing calcium filter that maintains a healthy level of acidity. It ensures that you and your family enjoy the safest possible drinking water.
Pros
It effectively removes most of the heavy metals.
The special filters maintain a healthy pH level.
It lasts for a considerably long time.
The installation is pretty easy.
The maintenance cost is less.
Cons
It is not leak-proof.
The alkaline filter is prone to malfunction.
4) Woder 10K-Gen3 Under Sink Water Filter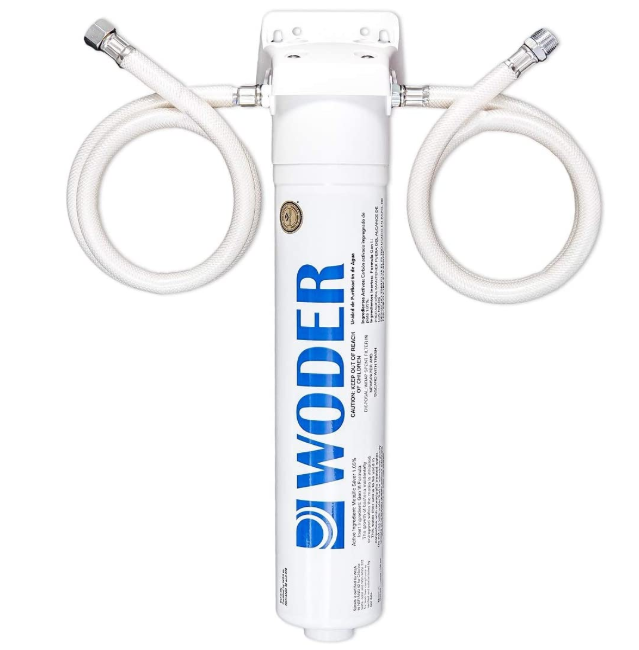 This filter sucks out impurities so perfectly that experts call the outcome of dead water. The unique technology discards all hazardous minerals while leaving out the ones which are essential to your body. However, sometimes it may toss out the vital minerals as well.
It removes 99.9% chlorine and leads, which means that you and your family can enjoy spring-fresh, odorless, and healthy water. Furthermore, the Woder filter pulls out most of the heavy metals, including chromium, mercury, and arsenic, which can be troublesome for your normal bodily functions.
It does have a high capacity but lacks longevity — It can only process 8,480 gallons of water, and after that, you might want to replace it. However, you can increase the lifespan through frequent maintenance.
Pros
The unique filtration kills off 99% of undesirable contaminants.
It has a high storage capacity.
It keeps the essential minerals in the water, making it healthier.
It revives the natural taste and odor of the water.
The installation is easy.
Cons
The maintenance cost is high.
It would need replacements every few months.
It is constructed in the long run.
5) Home Master TMAFC Water Filter System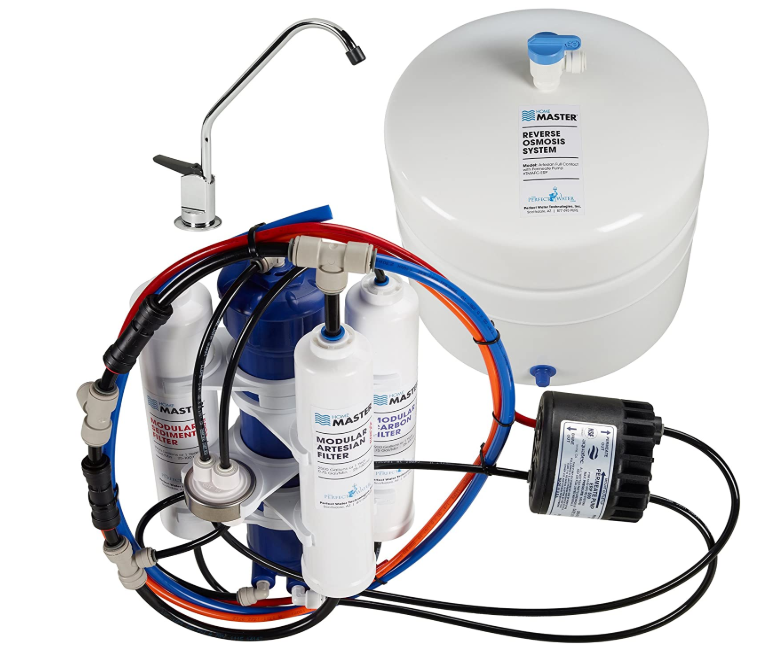 The health-conscious people would be extremely obsessed with this masterpiece. It has exceptional water purifying capacity while leaving essential minerals behind. On top of that, the Home Maser filter reduces water wastage and maintains a steady pressure with its built-in non-electric permeate pump.
It filters water in seven stages, including catalytic carbon filtration media and others that remove 99% of heavy metals, chlorine, chloramines, chemicals, sand, dust, dissolved solids, and other impurities. The resulting water will have a natural taste, smell, and essential minerals.
You wouldn't need brute force or special tools to install this unit. It can be set up easily by using a simple wrench.
Pros
It comes fully assembled from the box.
The filtration rate is adequate.
The filters are easily replaceable.
It removes the contaminants efficiently.
Cons
The connection strips are not reliable.
The maintenance cost is high.
6) UC-2K Fluoride + Wide Spectrumt Under Sink Water Filter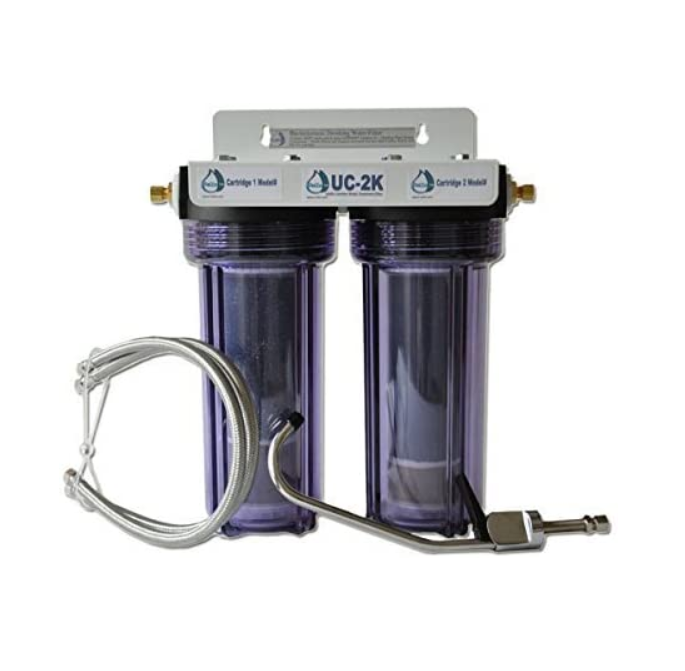 Whether you want a filter for just your family members or office peers, it can be an ideal choice. The installation is effortless due to its Direct Connect technology. All you would need is a wrench and a couple of minutes from your schedule to set it up.
The 3-stage filtration system ensures that there is no suspended particle left in your water. It uses micro sediment membranes, coconut shell carbon, and KDF-55 media to get rid of those contaminants. Some test strips also come along with the product so that you can confirm the purity of water before use.
Another feature that makes it unique is its bacteriostatic filtration system that prevents the amassment of moss and bacteria in the filtration chambers. Therefore, you wouldn't need to replace them for a long time.
Pros
It is very easy to install.
It is highly durable.
It prevents the growth of bacteria.
The maintenance cost is low.
Cons
It leaks sometimes.
It does not have a high storing capacity.
7) Culligan US-EZ-1 Under Sink Water Filter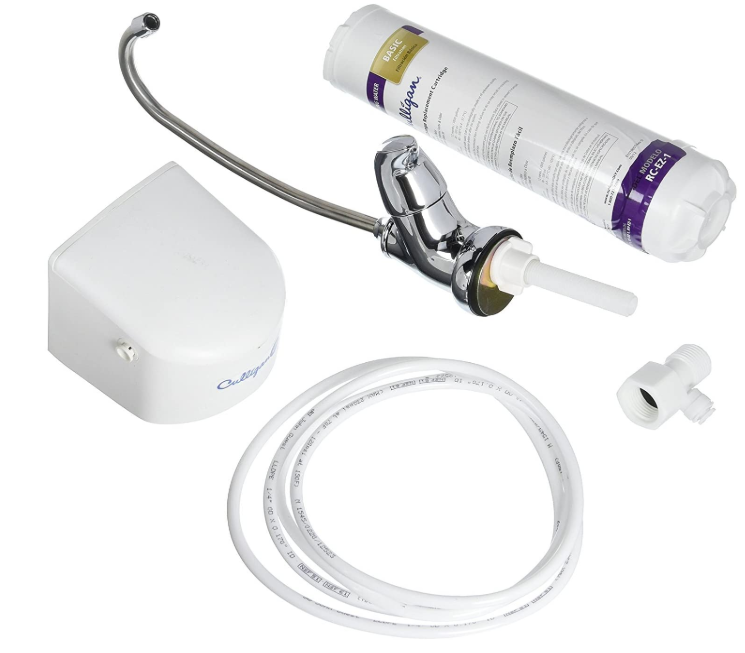 Due to its easy control and installation, it is loved by many. You can attach the whole system under your sink in just a few minutes.
In addition to that, the filer purifies water and prevents the accumulation of moss and bacteria. If you have ever tasted water from a moss-filled filter, then you know how bitter that experience is. But cartridge does not let the bacteria buildup saving you from many health problems.
The product is smartly engineered, having a fast filtration and pumping rate that can fill your glass in just four seconds. When you make the purchase, many useful accessories come with it, including mounting hardware and testing strips.
Pros
The interchangeable cartridges open up new doors of possibilities for you.
The pumping and filtration rate is incredibly fast.
It prevents the bacteria from amassing.
The installation is easy.
Cons
The plastic fittings are made with cheap plastic.
The screws are soft.
8) Ecosoft 3 Under Sink Water Filter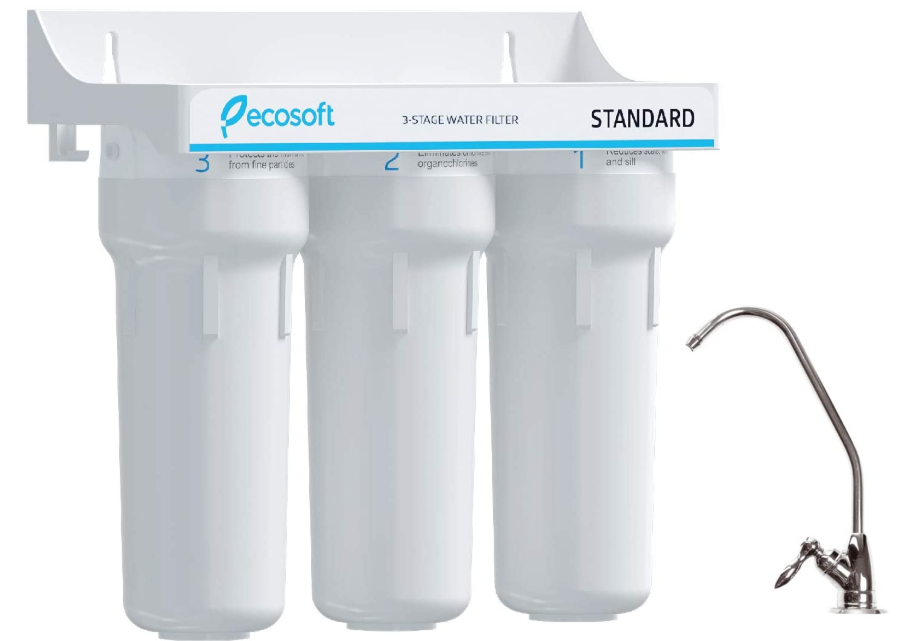 It has no rivals in performance, and that is exactly why people consider it ideal for office use where there is a huge audience. Ecosoft is known to remove any bad smell or taste from the water supply that can potentially trigger health crises.
Another unique advantage of having it is that it eradicates the chances of accidental leakage; It is a rare capability in under sink water filter. The product includes Carbon filters that ensure the removal of 99% of bacteria, chemicals, and other hazardous minerals.
Pros
It reduces the number of minerals and bacteria significantly.
The filters can be easily replaced without any hassle.
The filters are suitable for your health.
It gets rid of persistent chlorine effectively.
Cons
Some parts are made with cheap plastic.
It doesn't connect to a standard sink valve.
The included hardware is useless.
Buying Guide
You shouldn't just arbitrarily pick the filter based on filtration stages. There are many other factors that you must consider:
Ease of Installation and Replacement:
The installation should be easy so that you can set it up fast without expending your precious time. Furthermore, the filters should also be easily replaceable as they need replacement every few months.
Maintenance Cost:
Some products might seem wallet-friendly, but their maintenance cost can leave you broke. Therefore, consider the maintenance cost as well before purchasing.
Filter Capacity:
These filters differ greatly from the whole house filters and are compact. That is why they do not have much storage capacity. You should go for the one that suits you and your family members.
Certification:
The market is saturated with companies that sell out substandard products. They use poor quality filters, which ends up creating health crises for the consumers.
So, to avoid them, make sure the company that you have chosen has a certified filtration system. Otherwise, the risk would be too high.
Flow-rate:
Go for the device that not only filters the water perfectly but also pumps the water into your glass at a satisfying flow-rate.
Conclusion
If you think about it, the water you drink affects your health more than you know — it helps strengthen the immune system, keeps your bodily functions running, and prolongs your life. Therefore, you deserve an efficient water filter that keeps your whole family healthy.
Our guide might help you choose wisely. Undoubtedly, all of the products mentioned above are efficient in their own ways — Some filters out heavy metals better while some other revives the natural taste and flavor flawlessly. But our top pick is the iSpring 75GPD filter.
Well, the reason is clear; it proves spring-fresh water by removing most of the impurities and maintaining the natural pH, taste, and smell.