[toc]
Well, there's a single thing health-conscious people have been looking for – reverse osmosis filtration systems. Thanks to technology, these exist now.
There is no town, city, or state in the world where people get clean, pure water. Water coming through the lines has innumerable contaminants. No matter how efficient your filter is, some contaminants still escape through.
That's where reverse osmosis systems come in! These are the most effective way to filter stubborn contaminants and elements out of your water. The best thing about these RO systems is that you can add several accessories/tools to make them work even better.
With the increasing popularity, there are a lot of manufacturers that have been giving some of the best RO systems to the market while others, not so good ones. Here, we have gathered the 10 best reverse osmosis systems for you.
Read on!
Things to Consider Before Buying a Reverse osmosis System
Before you buy a reverse osmosis system, you must know what some important things to look for are. This will help you read through the reviews better and pick the one you find best.
Type of RO system
There are various types of RO systems designed according to the needs of households. The four popular types include under sink, countertop, whole house, and portable RO systems.
Filtration stages
Filtration stages tell the effectiveness of RO systems. Higher the stages, better the water quality. While it depends on the type of RO system, you should choose the highest stages in your type. A good RO system contains different types of filters, such as sediment, carbon, RO membrane, etc.
NSF certification
Having the label of NSF certified is a must. This ensures the filter comes from a reliable company and does its job best. Some significant labels are:
NSF Standard 42
NSF Standard 53
NSF Standard 58
NSF Standard 372
NSF Standard 401
Water production
Another thing to look at is the water produced by the RO system. So it is important to go with the water production capacity as per your consumption requirement every day.
Top 10 Reverse osmosis Systems 
Following are the top 10 reverse osmosis systems on the market today:
1) Home Master TMULTRA-ERP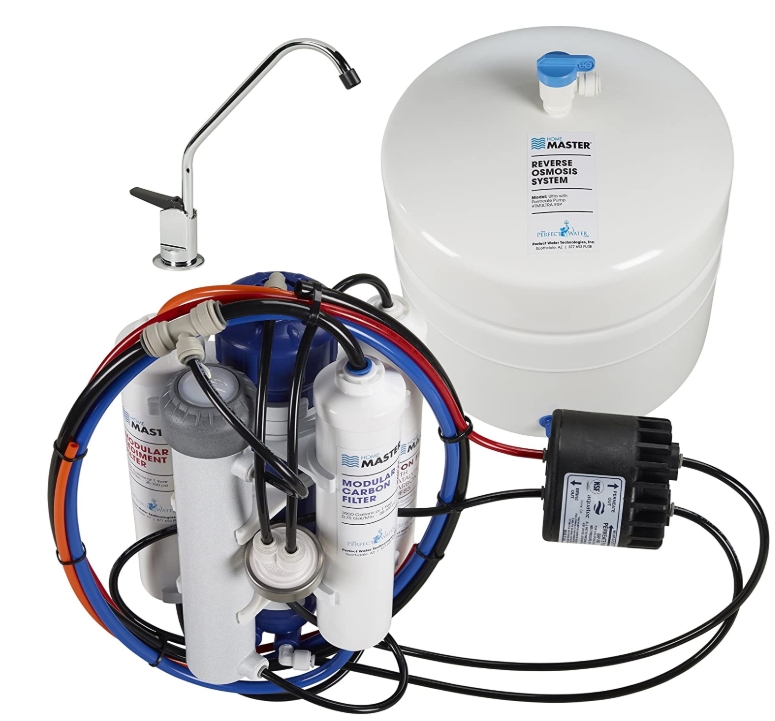 Home Master TMULTRA-ERP is one of the best RO units you can buy this year.
You will be surprised knowing that it comes with a permeate pump along with UV light for excellent filtration. While the water quality comes out amazing, the water waste ratio is 1:1. This makes it the most efficient RO unit on the list.
It produces 75 gallons of water per day and has great water flow. Its UV filter kills microorganisms, bacteria, and viruses that simple filters are unable to kill. Also, the UV filter has an automatic on/off system to ensure lesser use of voltage.
Overall, this is a compact RO unit you would love to invest in!
Pros:
Permeate pump
Water waste ratio 1:1
UV filtration
Cons:
Requires higher voltage to run
Expensive
2) Home Master TMAFC-ERP Artesian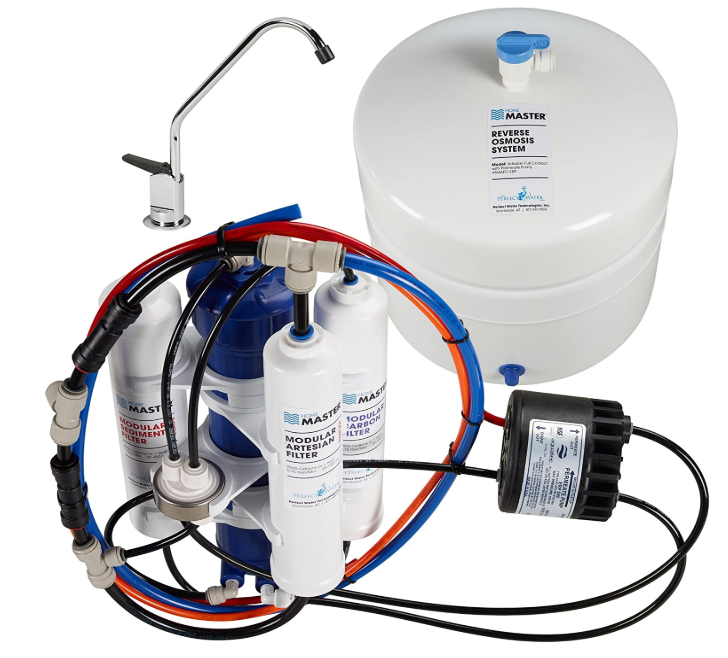 Home Master TMAFC-ERP Artersian Reverse Osmosis Filtration System makes a great under sink RO system due to its amazing specs. It comes with a remineralization filter, which adds important minerals back to the water after passing through it. This increases the pH of the water and makes it more alkaline. This way, the water tastes fresher.
Also, it features a permeate pump that enhances water production by 50% and reduces the amount of water that wastes by 80%. It offers 7 stages of filtration and purifies 75 gallons of water every day.
When it comes to the installation, Home Master TMAFC-ERP is really easy to install due to its modular design. Overall, it is a great RO system.
Pros:
Remineralizes purified water
Permeate pump
7-stage filtration
Easy installation
Cons:
Lesser capacity for larger households
No UV light
3) Waterdrop RO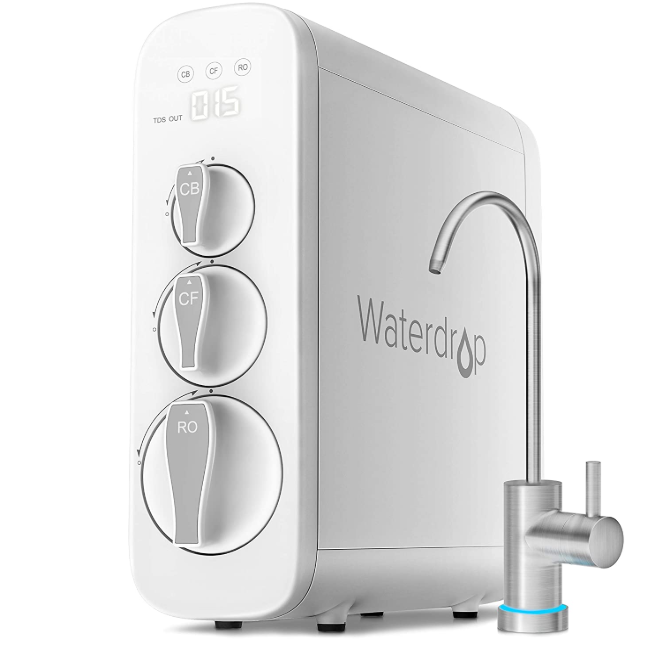 Waterdrop RO is another under sink RO system that features a sleek and compact design. It has some brilliant filtration features to offer. The reason why we loved this RO system is its tankless design. This means you need not wait while the tanks fill up.
Also, it produces a lot of water than average. Yes, 400 gallons a day with its amazing 7-stage filtration system.
Its LED panel makes it a real-time filtration informer. It tells about the filter status as well as about total dissolved solids (TDS). In the case of other filters, people usually use an additional TDS meter to get such information. Moreover, it is NSF certified.
Pros:
Takes lesser space
Higher water capacity
Comes with LCD panel
Cons:
No remineralization
No UV light
4) iSpring RCC7P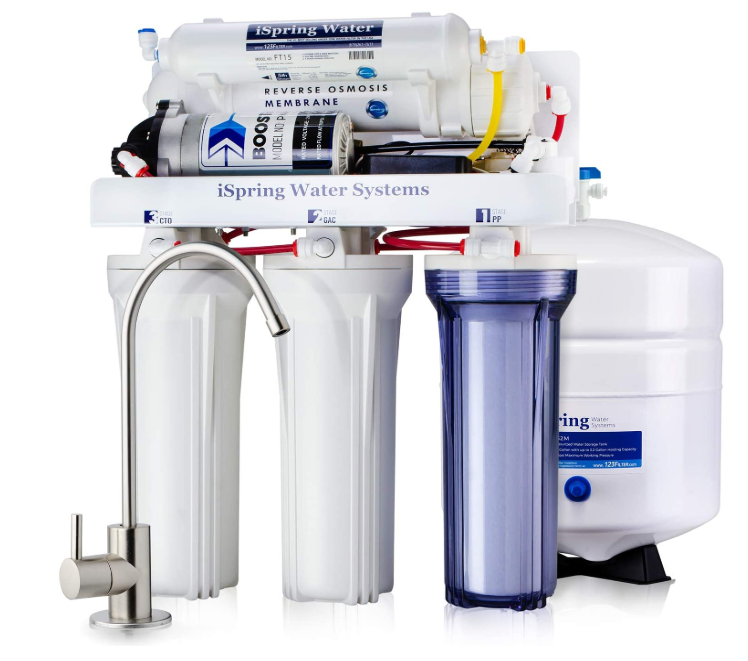 This under sink iSpring RCC7P RO system comes with a 5-stage filtration system and is not going to burden your pocket. Costing average, it is one of the best RO system producing 75 gallons of water per day.
It features a booster pump, which is something we admire this RO system for. This booster pump ensures lesser water wastage and produces water with a good flow. However, iSpring RCC7P needs 110V power input for the booster pump to work efficiently.
As far as installation is concerned, you need some simple DIY skills.
Pros:
Better water waste ratio than average
Affordable
Better water flow
Cons:
Needs higher voltage input
No UV filtration
5) NU Aqua Platinum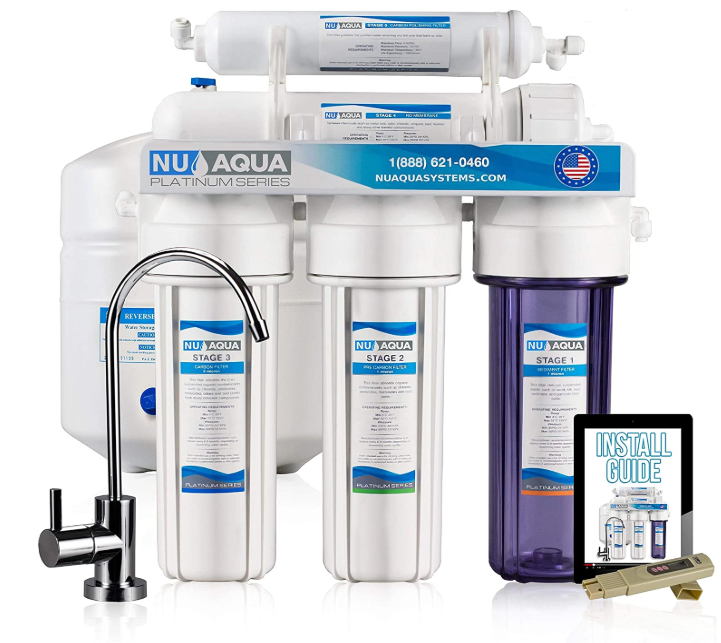 NU Aqua Platinum is the newer but effective under sink RO system. This might be the most affordable unit on the list with its 5-stage filtration system. Even with 5-stage filtration, it produces 100 gallons of water a day, which is higher than other 5-stage RO systems.
Also, it has a higher flow rate, which makes this RO system a great choice to consider. The water waste ratio is also average; 3 gallons waste to 1 gallon purified. It comes with a digital PPM meter to measure water quality from time to time.
Installation is quick if you know some basic skills. The package includes a faucet and storage tank along with 5 years warranty.
Pros:
Higher water capacity
Digital PPM meter
5 years warranty
Cons:
No permeate pump
No remineralization
6) iSpring RCC7AK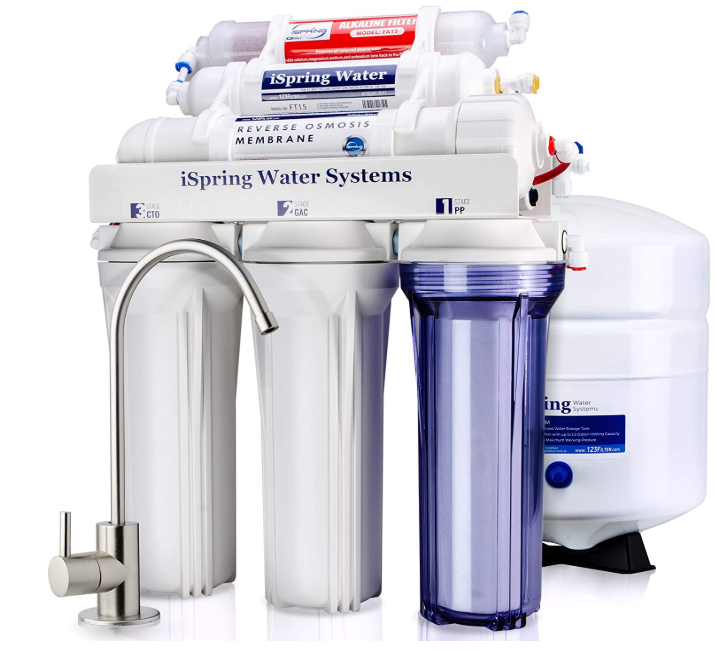 Here we have another impressive under sink RO system that features 6-stage filtration. The first five stages decontaminate the water while the sixth one remineralizes it to maintain the pH level. Being NSF certified, this RO system is known to remove 99% of contaminants, which improves the water quality largely.
Also, it gives off 75 gallons of water a day, which is good enough for normal household use. The water waste ratio is 3:1, which is good enough. Installation is easy and requires some simple tools.
Coming with a faucet and pressurized storage tank, it makes a great RO systems choice.
Pros:
Remineralization
Affordable
Average capacity
Cons:
No permeate pump
The newer model has UV filtration
7) APEC Top Tier Alkaline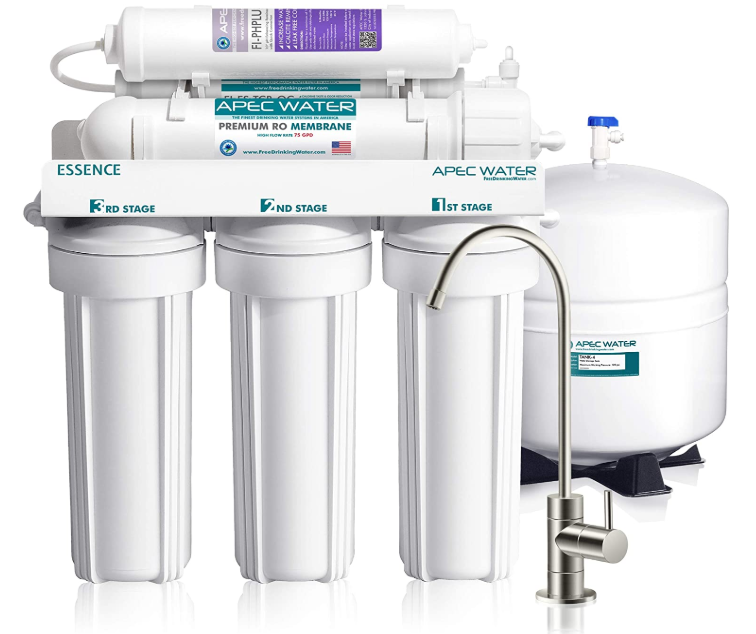 APEC has been producing popular under sink RO systems for long, and its Top Tier Alkaline RO filter is one of them.
It is known for its remineralization properties that increase the pH of the water to make it as alkaline as it should be. This provides mineral water tasting better and fresher.
With its 6-stage filtration, it produces 75 gallons of water every day, just like any other good RO system. It has an average water waste ratio, i.e., 3:1 and makes a great unit.
Also, it is easy to set up and requires some simple DIY installation skills. Its affordable price makes it a considerable RO system for average-sized households.
Pros:
Remineralization
NSF certified
Easy installation
Cons:
No permeate pump
No UV filtration
8) Express Water ROALK10DCG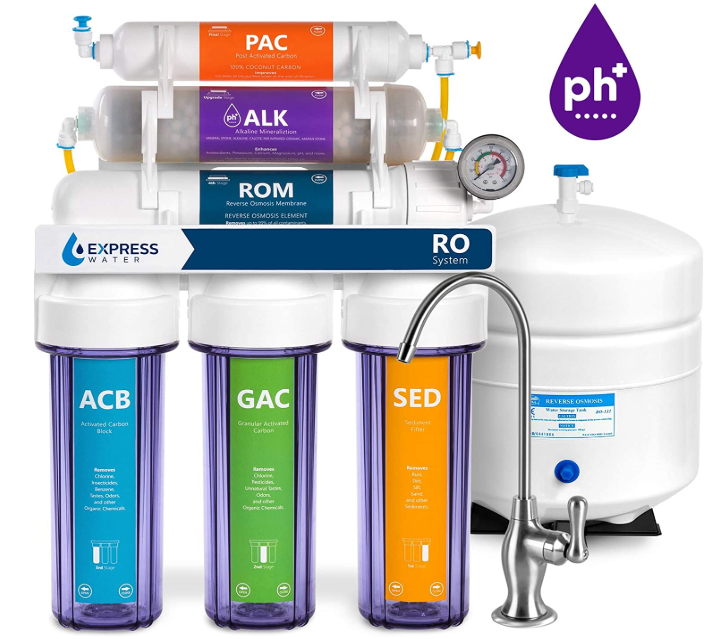 Express Water ROALK10DCG is an all-in-one RO system with its brilliant filtration features. The manufacturer claims a 10-stage filtration system that ensures no contaminants make their way through the filters, and 99% are efficiently removed.
By the end of filtration, it also remineralizes the water for it to have alkaline pH. This adds to quality drinking every day. Producing 100 gallons of water every day, it is great for an average-sized household.
It's wastewater ratio 2:1 is better than average due to its efficient filtration system. With its Quick Connect installation tube, you need not get a technician. Overall, it is a great RO system to consider and has topped the market in recent months.
Pros:
10-stage filtration
Remineralization
2:1 water waste ratio
Cons:
Bigger size
No UV filtration
9) Brondell H2O+ Circle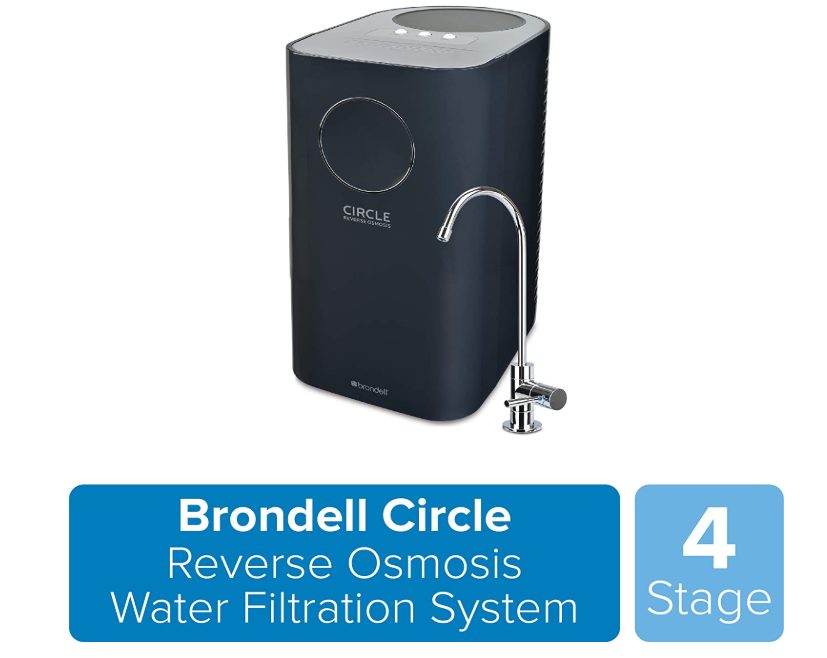 Brondell H2O+ Circle is another impressive RO system on the list with its compact and stylish design. It works quite efficiently and takes up lesser space. This means you can install it under sink even if the area is small.
This RO system comes with a water waste ratio of 2:1, which is efficient enough. Also, it is capable of producing 50 gallons a day, which is just average for an average-sized household.
We are sure you will applaud the built-in Led light that notifies when it is time to change the filter. This makes maintenance quite easier. However, when it comes to changing the filter, you might not find it easily and will have to order it through the manufacturer.
Pros:
Compact size and style
Good water waste ratio
LED notifies filter change
Cons:
Lesser water capacity
Filters are difficult to buy
10) iSpring RCC7AK-UV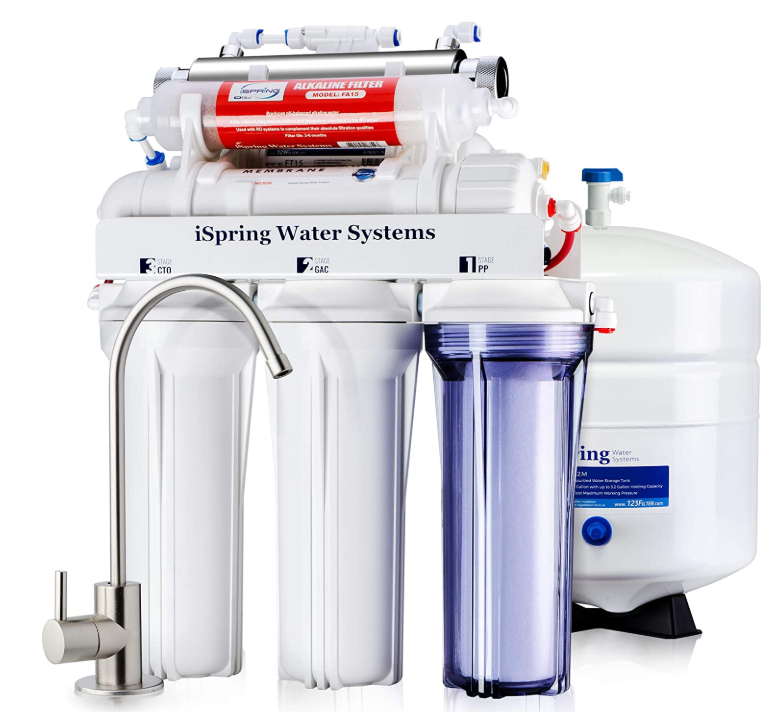 While we have already mentioned iSpring RCC7AK up there, we thought it best to review its newer and efficient model as well. iSpring RCC7AK-UV is another well-built under sink RO system that features UV filtration.
Its UV filter ensures there are no microorganisms, bacteria, or viruses left in the water. With its 7-stage filtration system, it efficiently produces 75 gallons of water a day. Also, it remineralizes the water to make the pH alkaline.
So you are going to get filtered, best quality water along with mineral taste. However, it does not come with a permeate pump, and so, the water waste ratio (3:1) is not very impressive, given the rest of its features.
Pros:
UV filtration
7-stage efficient filtration
Remineralization
Cons:
Unimpressive water waste ratio
Average water flow
Buying Guide
Here are some important things regarding RO systems we considered important to address. Reading through, you will add a lot to your information. This will help you make an informed purchase when buying a reverse osmosis filtration system.
Why do I need a reverse osmosis system?
Reverse osmosis systems are the most efficient and effective filters manufactured to date. These are built to remove the highest number of contaminants from the water with their impressive stage-based filtration system. RO systems reduce the following harmful contaminants:
Aluminum
Chlorine
Chloride
Arsenic
Copper
Mercury
Lead
Manganese
Nitrates
Nitrites
Protozoa
Viruses
Bacteria, and much more…
What are some common types of RO systems?
The four common types of RO systems include:
Undersink RO system: If you are looking for a RO system that fits under your sink, Undersink RO units are the best option. These fix right well and allow you to get filtered water in your sink.
Countertop units: These are smaller in size and so can be placed on your countertops. These are known to function well and offer filtered water.
Whole-house units: If you want to deliver filtered water to all the taps in your house, you should go for whole house RO units. These help you use fresh water for drinking, bathing, washing, and whatnot. However, these are bigger and expensive.
Portable RO systems: Need a filter for traveling? Portable RO systems are compact and best for traveling.
What are some additional RO features?
While not all RO systems include these features, these are present in the best RO systems:
Permeate pump: As you will not like to waste a lot of water while getting filtered water, a permeate pump enhances efficiency and improves water waste to filtered water ratio.
Remineralization: It improves the taste and quality of water by increasing its pH and making it alkaline. Most RO systems come with a remineralization filter.
UV Light: While this feature is still rare, some topnotch RO systems have UV light that kills all the microorganisms, viruses, and bacteria that otherwise escape through simple filters, no matter how many stages.
Final Thoughts
While each unit mentioned above comes with great features and filtration specs, Home Master TMULTRA-ERP is the best reverse osmosis system on the list.
What makes it the best in its most efficient water producing capacity. As only 1 gallon of water wastes to filter 1 gallon of water, this is what we all need today. In these times, when water is becoming a precious commodity, we need to save it as much as we can.
Also, it comes with UV filtration that provides 99% purified water. If you are looking for a RO system like this, we highly recommend buying this one. Otherwise, go for the one that best matches your requirements and budget.