Definitely, Rain Shower Heads are the best and the most relaxing type of shower heads. They are the most common ones, so that means that there are a lot of different types. Choosing a good one might be a hard task for some people, and that's why we're making this article help you chose the best rain shower head for you and your family. Also Checkout the Best LED Shower heads
The 5 Best Rain Shower Heads
[toc]
We are going to take a look at the 5 best rain shower heads that are available for a good price and that come with a lot of features and high quality. Let's take a quick look at our comparison chart, and then move on to detailed reviews about each product.
Color: Bronze/Nickel/Chrome/Oil Bronze



Color: Brushed Stainless Steel
5. SR Sun Rise 12″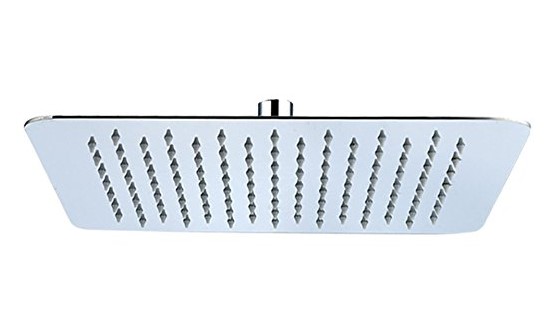 The SR Sun Rise 12″ is a very thin and luxurious looking rain shower head which is made out of stainless steel and has a chrome finish. They did a great job with this shower head because you can choose which option you want. They made different sizes and styles so you can pick the one that is suitable for your bathrooms design and size.
What I loved about this product is that it has a rotating connector in it, which allows you to adjust the angle of the shower head so you can adjust it based on your needs. Not many shower heads have that option, especially the 'plate-style' ones, so I was very impressed by that.
If you've had a 'plate-style' shower head before you probably know that it's a very hard task to clean them, however on the SR Sun Rise one this isn't the case. It has nozzles which are very easy to clean, and they don't get destroyed after 2-3 cleans like the other shower heads do.
It's very durable and you won't see any water leaking on it for a very, very long time. You really do get more than what you pay for because shower heads in this price range are usually very low quality that will be unusable in 2-3 months, but this one is not like the others and I recommend this to everyone that is looking to buy a new rain shower head.
4. AKDY AZ-6021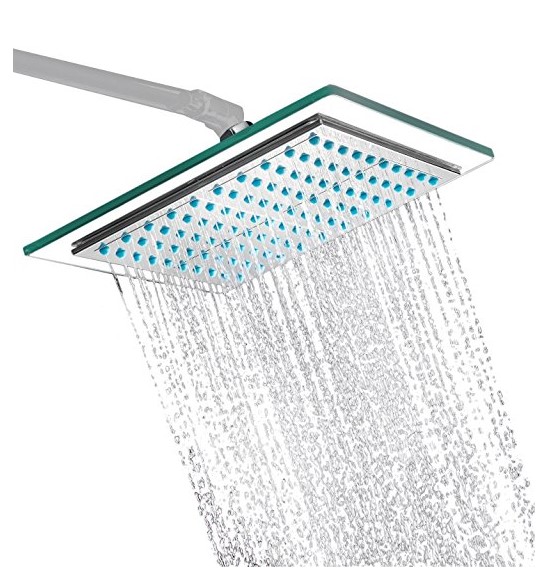 At number 4 of our best rain shower head list, we have the AKDY AZ-6021 which is a very affordable shower head made out of quality heat-resistant plastic that gets the job done perfectly. This is a good option for people that do not want to spend too much money for taking simple showers, and that just want one that can do the job and won't break anytime soon.
This is an 8-inch rain style shower head which is the average size for small to middle sized bathrooms. The rain type of shower will be an amazing pleasure for you after you come back home from a long day of work, because the 8 inched plate is bigger than the handheld shower heads, so if you're replacing a handheld one with this, you will notice the difference.
The bad thing about this shower head is that it doesn't come with an extension arm, so you will have to buy one. Extension arms are cheap and can be found anywhere. Even a very cheap extension arm will be good enough for the AKDY AZ-6021 because it's made of plastic and that means that it's very lightweight.
I only put this shower head in this list because it's very cheap for the things it has to offer, so I would say that it's worth it.
3. Thunderhead TH2.5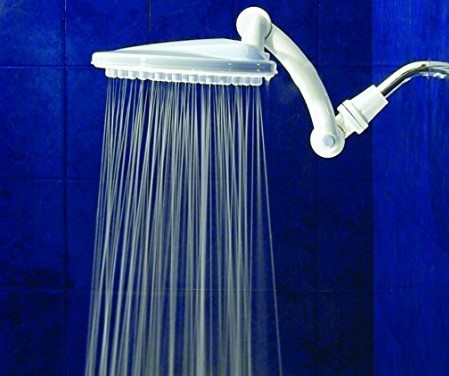 This might be one of the most popular rain shower heads available in the market today. It's very popular because it has a lot of functionality, very high spraying power and all that comes at a very cheap price.
What is special about this shower head is that you can adjust the height. Let's say you have kids and a wife. All of them have different heights, so you have to choose the middle so it's suitable for each of you, right? Well, Thunderhead has a thing called the Acrobat extension arm, which lets you move the shower head up and down very easily, so when your kids go inside the bathtub, they can lower the shower head and when you go it you can take it higher.
I wanted to criticize this shower head but I honestly can't find anything to criticize about it. Everything about it is perfect, and I would like to mention that the 'rain feeling' is very strong in this product, maybe even the strongest on this list.
This product only comes in plastic white color, and that might be a heart breaker for some people, but this is the highest quality plastic you will ever get. Well, to be honest, you can't get a golden one for that price even if you search for your whole life!
It's extremely easy to install and everyone can do it, even if you've never installed a shower head before in your life. You can follow the instructions on our best shower heads guide at the bottom of the page for installing one.
2. Decor Star 004-SS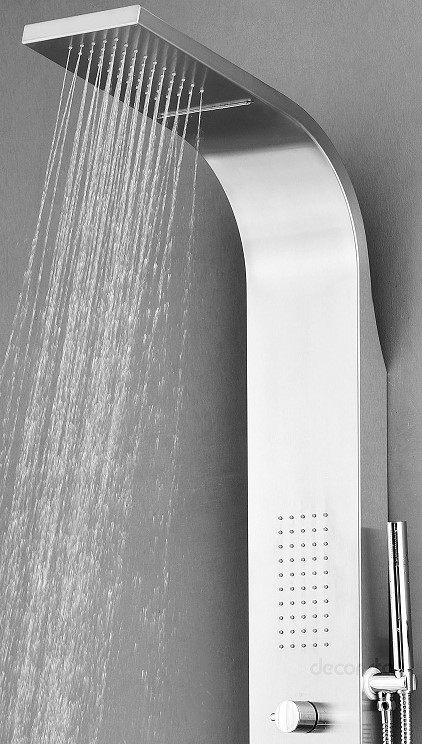 I really wanted to rank this the number 1 on this list, but the price is a bit too high for some people, so I would say the number 2 spot is a perfect choice. What's so special about this shower head is that it has 4 different spraying modes, so I'd say it's a pretty luxurious one.
It has the waterfall mode, which is great for people that get tired a lot. This setting will make you feel new when you get out of the shower. It also has the rainfall mode, and if you've come this far down this list, then you probably know what this is. It also has the horizontal massage spray and the hand shower setting. You can say that this shower head is an all-in-one option.
You can control the pressure of each setting, so that's something else that no other shower head has in this price range. For example, if you want to have a heavy waterfall mode shower you can do it by using the knobs. Please note that to see the full functionality of this product you need to have really good water pressure at your house, and if you don't you won't be able to see it work to its full potential.
This shower head differs a bit from the other ones because this is a wall mounted one and it definitely gives your bathroom a very luxurious feeling.
It's very durable and is made out of high-quality stainless steel material, so that means that you don't have to worry about rust or any other similar thing. When you pay for this, you pay for beauty, for quality and high functionality, so if you have extra money laying around, I'd definitely recommend you to purchase this shower head because it is worth every single penny that you will pay for this, since you can't find a better one in this price range that can do everything.
1. Moen S6320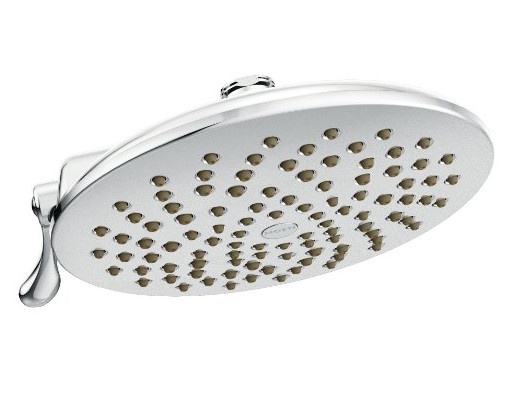 The number 1 spot of this Best Rain Shower Heads list is booked for Moen S6320, and I would say that it definitely deserves it.
This shower head has everything that you could want from one, and every part of it is extremely high quality. The price of it might be a bit higher than the other products on this list, but if you want a very durable shower head that comes with a limited lifetime warranty, then this is the perfect choice for you.
It is designed to fit in every kind of bathroom, so it doesn't matter if your bathroom is small or huge, it will take up a very little amount of space. It comes in 4 beautiful colors: Chrome, Antique Bronze, Brushed Nickel and Oil Rubbed Bronze so you can match it to your bathrooms design easily.
This is a shower head which has both the rain shower and the pressurized spray settings, so you basically kill 2 birds with one stone. It has a small lever on it which lets you choose between the two settings by just pulling it.
It has an 8-inch diameter so it's a perfect size, if not even a bit large. This is a very good thing because it will be able to spray water on all your body parts. Some shower heads are very small, especially the handheld ones, and they sometimes give you a hard time.
If you have the money, then this is the shower head I would recommend to you. It's a bit more expensive than the others but it's worth every single penny.
Choosing The Best Rain Shower Head
If you've come this far, I see that you are determined to buy the best rain shower head that will last you for a long time, so now we are going to take a look at the things you should look for in a shower head before purchasing one.
Always make sure you purchase from reputable sellers and from reputable manufacturers. Always try to choose companies that have been in the rain shower head business for more than 5 years, because most of the newcomers always try to make them with low-quality material and then they run out of business.
Before purchasing, always make sure to go to their website and read about the company's history. If the company is listed in this article, then it is a good and reputable one, so you do not have to worry because we did all the research for you.
When buying a rain shower head, you should always make sure that it is made out of quality material, and preferably steel. Steel is a strong material which does not get rusty or lose its shine after
cleaning it a few times. Plastic and other material are good too, and they usually come at cheaper prices. If you want to get a cheaper shower head, make sure the plastic is heat resistant. A perfect example would be the Thunderhead 2.5.
Size
The size is very important when trying to buy the best rain shower head for yourself. It all depends on your personal preference and the size of your bathroom. If you have a huge bathroom then you should go for a square shower head that is over 15 inches, because the bigger they are the more realistic rainfall feeling you will get. If your bathroom is small then you should get a smaller round one.
You should not just focus on the shower head to be rainfall type. Make sure you get one that has whatever else you need in it. You can get waterfall shower head, which definitely make your shower experience feel 10 times better and more entertaining. Also if you like to sing in the shower, you can look for a shower head which has a Bluetooth speaker in it. You can use the Bluetooth speakers to listen to music, to talk on the phone while taking a shower and much more. There are a lot of other extras which you can find by looking around on the internet.
Conclusion
It's definitely worth the time you put into choosing a good rain shower head because they aren't something that you change every day and you need to get a good one that will last you at least for a few years. If you've done your research and still can't decide on which one you should buy, do not hesitate to contact me via the contact form and letting me know between which two products you're stuck, I will do my best to help you pick one. Thank you for reading once again!