Gone are the days when you would have to scream for help when the toilet paper runs out. With bidet toilet seats, you can clean yourself with a spray of water without relying on a piece of paper. These electronic toilets have so many advanced features to make your toilet break as comfortable and luxurious as possible. They understand the importance of personal hygiene, giving you incomparable sanitary conditions. In case you have made up your mind to upgrade your bathroom life, you might want to look into some of the best bidet toilet seats that we've reviewed.
Best Bidet Toilet Seats
1) Toto Washlet S300e bidet seat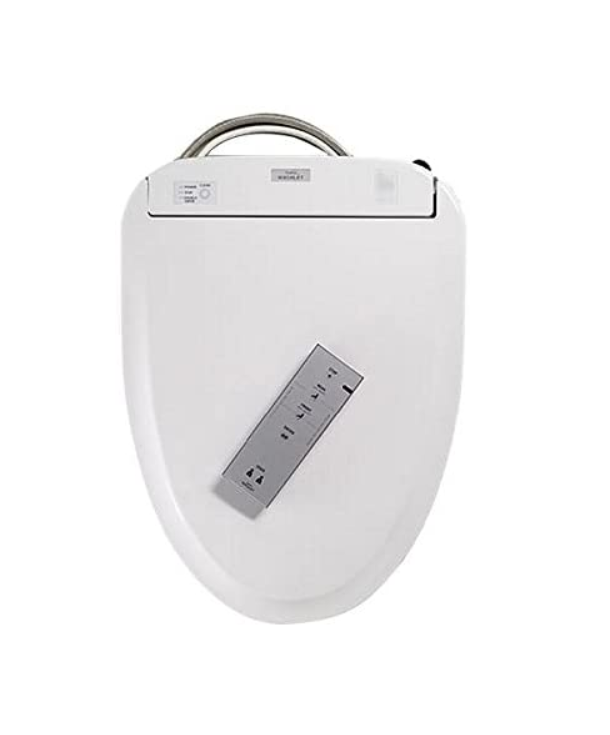 )
Ultimate hygiene is the top priority of S300e. It carries a self-cleaning feature that not only rinses the spraying-wand after every use but also the dumping bowl.
An automatic timer is set to restore the freshness by releasing electrolyzed water in the toilet after eight hours of inactivity — it will prevent the amassment of bacteria, fungus, and other microbes, especially while you're fast asleep.
In every way, it is comfortable and satisfying to spend time with S300e; as it comes with various water oscillating and pulsating options, spray angle options, and seat temperature settings. Plus, the device has a built-in air dryer to prevent dripping in your own pants.
Pros
It includes various spray, oscillating, and pulsating options.
The sea heating feature help maintains comfort levels during winters.
The unique self-cleaning feature maintains sanitary conditions.
Cons
It is expensive.
The water pressure isn't strong.
2) Toto Washlet C100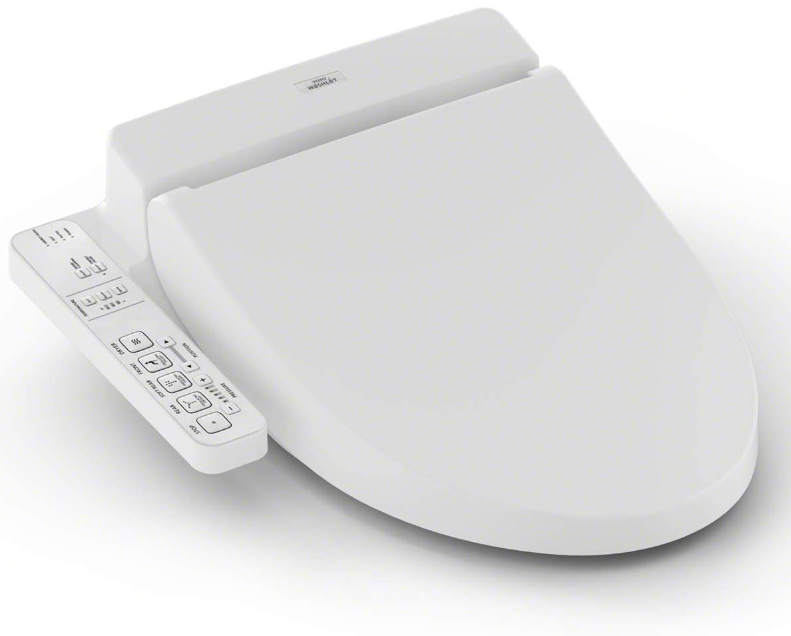 No more sitting in an uncomfortable position to clean perfectly, as C100 features a moveable wand that can be adjusted in the appropriate position to get a proper clean. Plus, with adjustable water temperature and spray settings, you can enhance the comfort of the process.
It carries variable pressure and many oscillating spray settings for maximum performance. You can also manipulate the temperature of the lid, which means you would never have to sit on an ice-cold toilet seat. It might seem costly, but in comparison to most bidets, C100 is on the low-priced end of the scale.
Pros
Heated seat feature is convenient to have.
The adjustable water pressure allows optimum cleaning.
You can adjust the wand as per your requirement.
It is a relatively more economical option.
Cons
The installation is tricky.
The size of the seat is small.
3) Brondell Travel Bidet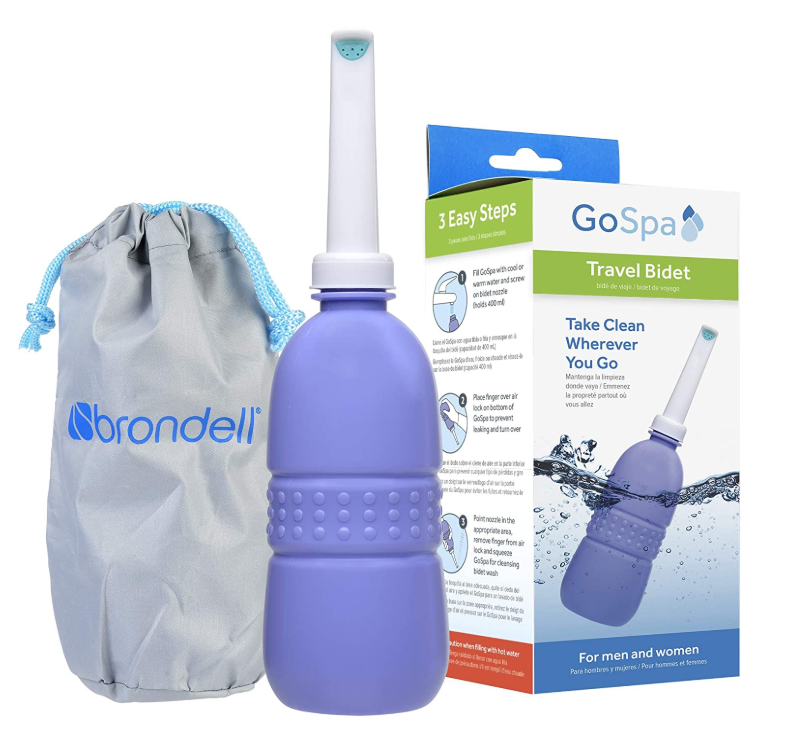 As the name implies, this unique bidet is made to carry around. The whole idea may seem absurd at first, but it can be a lifesaver at difficult times. For instance, during traveling when nature calls, and there is no toilet paper around, it is where Brodell Travel bidet can save the day.
Being highly compact, it can easily be concealed in your purse or luggage. And when the time comes, it will always be with you. All you would have to do is to find some water to fill the nozzle. It works by squeezing the 400ml water reservoir while pointing it in the right direction.
Pros
It is portable and compact.
With ergonomic design, it can easily fit into your palms.
It can carry a good amount of water.
It is easy to use.
Cons
Many people are not comfortable with the procedure.
The water pressure may not be sufficient sometimes.
It makes some noise.
4) BioBibet Bliss Electric Bidet Seat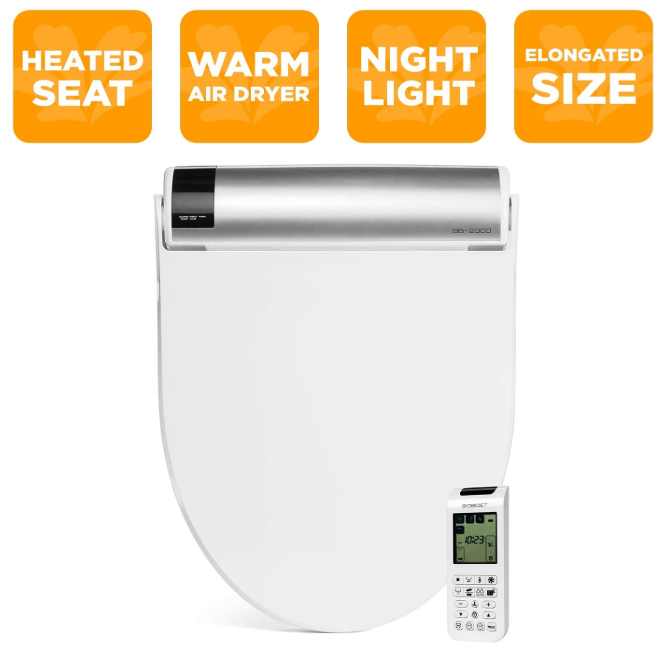 Do you know where toilet paper comes from? Yes! From trees. Imagine how many trees you would save just by replacing paper with an alternative. That reason alone is compelling enough to get yourself a bidet fast, and BioBibet Bliss lets you save trees in the most luxurious way possible.
It carries countless impressive features, including a 3-in-1 functioning nozzle that, with a feminine wash, excellent posterior wash, and vortex wash, ensures maximum cleaning. Beyond 3-in-1 technology, this bidet provides wider water spray along with pulsating and massaging stream to feel relaxed.'
To ensure ultimate hygiene, the nozzle is infused with self-cleaning technology that, by using a built-in motor, cleans it from inside-out. Moreover, it is embedded with many high-end, luxurious features, including heated seats, night light, built-in deodorizer, and instant water heating.
Pros
The self-cleaning nozzle ensures maximum hygiene.
The product has many customizable options.
3-in-1 nozzle technology is unique.
It has many luxurious features.
Cons
It is expensive.
The fan function has flaws.
5) BioBidet SlimGlow Toilet Attachment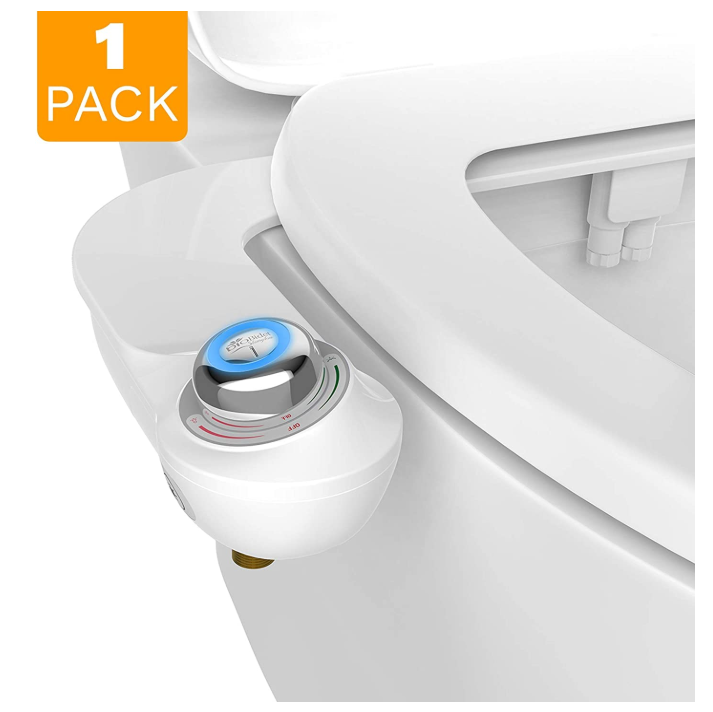 For people on tight budgets, this device is the perfect option. This simple gadget can easily be installed within 30 to 40 minutes; that saves you the cost of hiring a professional. Despite being inexpensive, it has various features that are inspired by the luxurious models.
It features both feminine and rear cleaning along with a nozzle that sprays water with high pressure. On the con side, this model does not have any heating element, meaning it can neither heat the seat nor the temperature. Anyway, the simplicity it offers is suitable for all; seniors, children, and adults.
Pros
It is simple and easy to use.
The installation requires a couple of minutes.
It has both feminine and rear cleaning options.
It is an inexpensive gadget.
Cons
It does not have any heating element.
The quality is questionable.
6) ALPHA JX Elongated Bidet Toilet Seat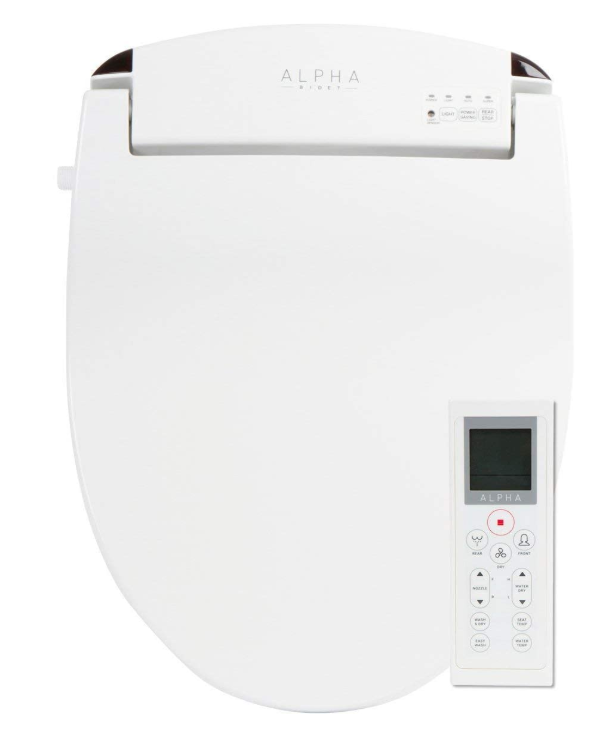 If you want comfort, luxury, and a bidet that compliments your bathroom's interior, then ALPHA JX could be the one you are looking for. It features Easy Wash; which provides oscillating water spray with full pressure and Wash and Dry; that, with the help of a fan, dries the rear in a matter of seconds.
With this in your bathroom, you wouldn't even need to turn on the lights. There are LEDs around the seat that illuminates the toilet. But honestly, its purpose is to make the ambiance more attractive than to provide convenience.
The nozzle has a self-cleaning mechanism that maintains sanitary conditions by getting rid of mineral deposits and debris, ensuring the durability of the product.
Pros
The LEDs around the seats look attractive.
The dual washing options are convenient to have.
The nozzle has a self-cleaning mechanism.
It is highly durable.
Cons
It reduces the sizes of your toilet seat.
Water temperature fluctuates.
7) Hibbent Bidet Seat with Separated Self Clean Knob-Dual Nozzles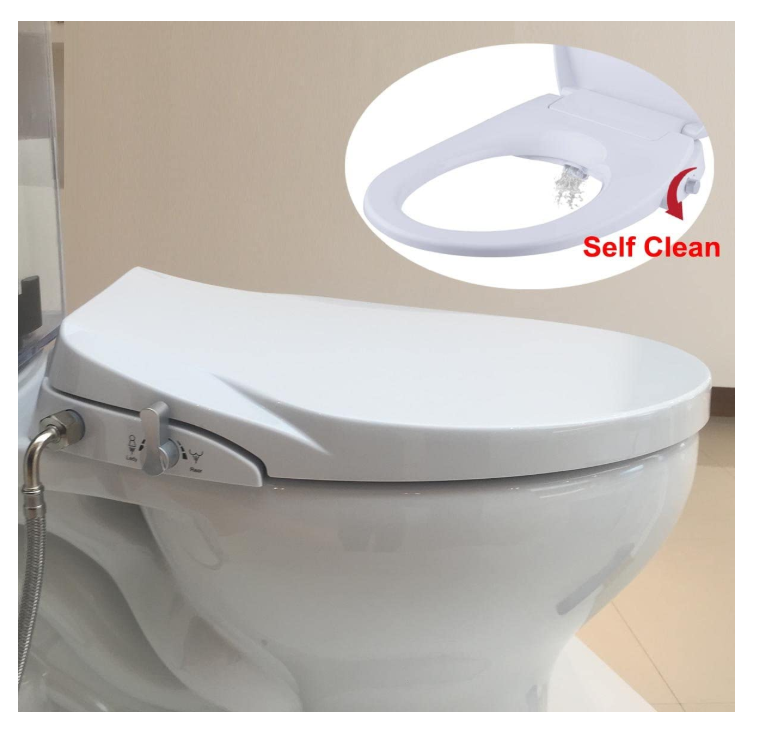 It carries all the features you could ever want in a single model. Hibbent provides convenient washing options, having both feminine and rear cleaning. The product comes with many nozzles, each having different purposes. Moreover, the power of the nozzle can be adjusted for maximum comfort.
The seat is outfitted with soft material on the inside, allowing noiseless and soft closure. Another huge advantage of this bidet is that it can be installed within 20 to 40 minutes without needing to be wired.
Pros
It has many cleaning cycles.
The nozzle power is adjustable.
It does not require electricity.
It is easy to install.
Cons
The mounting system has flaws.
The plastic is very thin and flimsy.
8) SmartBidet SB-2000WE Smart Electric Bidet Seat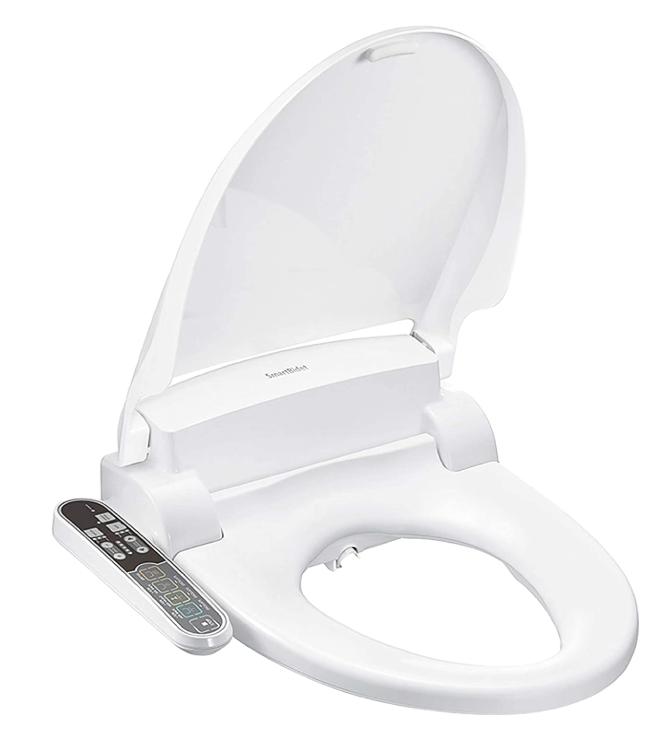 The easy-to-handle panel is used to control the whole device. It features many washing cycles along with an oscillating nozzle that gives out water with high pressure. After use, if you've forgotten to close the seat, then no worries! It can close itself automatically without making any noise.
The water pressure can be adjusted by using five variable settings. Plus, the temperature of both; water and seat can be adjusted using the panel.
The device is outfitted with various drying levels; it simply means you wouldn't need to use toilet paper afterward.
Pros
The control panel is easy to understand.
It has many customizable options.
You can adjust the temperature.
It is noiseless.
Cons
The paint wears off.
The plastic isn't durable.
9) Toto C200 WASHLET Electronic Bidet Toilet Seat
Another masterpiece from Toto, featuring high levels of luxury and comfort. Just like its previous model, it provides rear and front cleaning, variable pressure, and adjustable temperature options. It is outfitted with a drying fan that makes the use of toilet paper obsolete.
Moreover, C200 has a built-in deodorizer that covers any shameful or off-putting odors in the bathroom, keeping it fresh always. In this model, instead of a panel, you have a remote control to operate the gadget easily.
Pros
The built-in deodorizers masks unpleasant odors.
It is highly luxurious.
It is easy to install.
It has many customizable options.
Cons
It has an installation flaw.
Warm water does not last long.
10) Coway Bidetmega 200E Elongated-Electronic Bidet Seat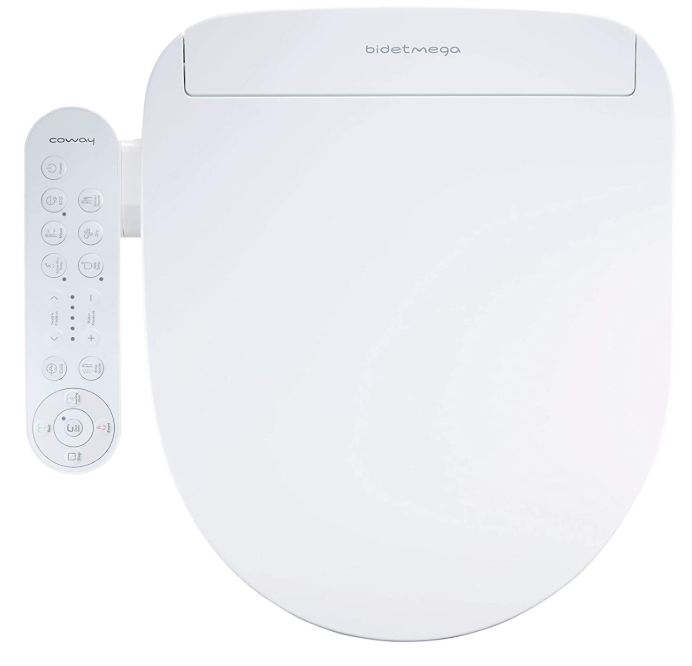 The feature that might attract you the most is the unique I-wave technology that suits everyone; children, seniors, adults, teens. Further, it features a complete hygienic water cycle that cleans the toilet from inside-out.
What's more, the temperature of the seat is fully customizable, meaning no more ice-cold seats in winter. These settings can be controlled from a user-friendly panel that doesn't need any additional skills to be understood. On the whole, the device is easy to install and can be a great asset to your bathroom.
Pros
The seat temperature is adjustable.
It is easy to install.
The controls are user-friendly.
Cons
It does have many pressure settings.
The plastic wears off.
Buying Guide
To make a sound decision, you must understand the product. Here are a few things that you might want to take a peek of before purchasing.
Types of Bidet Toilet Seats
Generally, they are classified into two categories; powered and unpowered seats. The unpowered bidets are common among people who look for simplicity. These devices do not need any electrical power source to work. Instead, they rely on the pressure gradient to create a water spray.
Powered seats, on the other hand, require a power source. They are an ultimate luxury in disguise; as they carry water and seat temperature controls, remote control water spray options, and self-cleaning features. These devices might cost a fortune, but honestly, it would be worth it.
Installation
To install most of them is a piece of cake if you have a power outlet near you. Otherwise, you would have to hire a professional.
Additional Features
Even the simplest models would allow you to manipulate the spray of the wand, which is an essential feature to consider. Moreover, you should look for a self-cleaning mechanism as well to maintain good sanitary conditions.
The rest of the advanced features are considered as additional luxuries, and you should as per your personal preference and budget.
Conclusion
Since the invention of bidet toilet seats, a bathroom break has never been more comfortable. You have a good deal of options to choose; from simple devices to many highly-luxurious options. Out of all of them, we have picked the Toto Washlet S300e bidet seat to be our top choice.
With this device, you can control the temperature of the water, manipulate the spray, and adjust the seat temperature, making it a desirable option for most. It is certainly not cheap, but if you compare the average cost of tissue paper per year, you will find that buying a bidet is more economical.